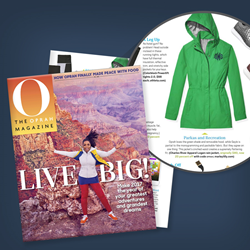 Having Oprah's endorsement on one of our styles is incredibly exciting!
SHARON, Ma. (PRWEB) December 07, 2016
Charles River Apparel is pleased to announce that their women's "Logan" jacket has been chosen as one of Oprah's favorite on the "O List," featured in their January issue of O, The Oprah Magazine.
The Logan jacket is a style meets functionality piece, designed with a durable and water resistant shell that's sure to keep you warm and dry for an easy transition from season to season.
"What an honor to be selected by one of the most influential women in the world" says Tracy Lehnen, Vice President of Marketing of Charles River Apparel. "For a family-owned company like Charles River Apparel," continues Lehnen, "having Oprah's endorsement on one of our styles is incredibly exciting!"
This marks the first time that Charles River Apparel has been selected for the list.
The Oprah's Favorite Things list premiered in O, The Oprah Magazine in 2002 and is celebrated by consumers, brands and industry insiders alike. Oprah Winfrey has been delighting shoppers with her must-have holiday gift guide since her time on television in the 1990s.
To purchase the Charles River Apparel Logan jacket, visit https://marleylilly.com/product/monogrammed-logan-rain-jacket/
ABOUT CHARLES RIVER APPAREL
Charles River Apparel, founded in 1983 and based in Sharon, Massachusetts, is a leading manufacturer of active apparel for corporations, businesses, school teams, athletic groups, and college students nationwide. The family-owned company, now in their 3rd generation, has been nationally recognized for the quality, style, and value of their apparel as well as their various philanthropic efforts throughout the year.  Charles River Apparel has been listed as one of the top 100 Sporting Goods Manufacturers in the U.S., named a top 10 Small Businesses of Massachusetts by the Greater Boston Chamber of Commerce in 2011, Named as a top 25 Family owned business in Massachusetts, Humanitarian of the year by NEPPA in 2016 and was awarded Massachusetts Family Business of the Year in 2012.   
For more information, please visit http://www.charlesriverapparel.com