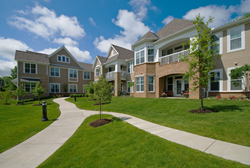 Ziegler has served OPRS for more than 30 years. It was great to be able to help a historic partner to achieve a number of goals in the realignment of its capital structure and to lock in strong economic savings...
Chicago, IL (PRWEB) December 05, 2016
Ziegler, a specialty investment bank, is pleased to announce the successful closing of the $21,955,000 Series 2016C, tax-exempt, fixed-rate financing for Ohio Presbyterian Retirement Services, a long-standing Ziegler client. Shortly following the closing of the 2016C financing, OPRS' legal name was changed to Ohio Living as part of a broader corporate rebranding initiative, effective November 1, 2016.
OPRS Communities (OPRS) is a not-for-profit corporation duly organized and existing under the laws of the State of Ohio. Founded in 1922, OPRS presently owns and operates 12 retirement communities in Ohio, 10 of which are full service retirement communities, serving more than 3,000 residents. OPRS also delivers various community-based service programs, including but not limited to, hospice, home health care services, adult day care, home meals, and transportation to over 75,000 older adults at various locations in Ohio. OPRS is ranked 15th in the 2016 LeadingAge Ziegler 150 and is the largest system in the State of Ohio.
Proceeds of the Series 2016C Bonds, together with available funds, will be used to (i) refund OPRS' outstanding Series 2002A Fixed Rate Bonds, (ii) refund OPRS' outstanding Series 2005A Fixed Rate Bonds, (iii) fund a Debt Service Reserve Fund, and (iv) pay costs of issuance related to the Series 2016C Bond financing. The issuance of Series 2016C Bonds is a part of a broader Capital Structure Initiatives that OPRS implemented in the summer of 2016. The Capital Structure Initiatives sought to reposition OPRS' current financial covenants, including the elimination of more restrictive covenants originating with its Radian insured Series 2002A Bonds, minimize variable rate risk in anticipation of a long-term rising interest rate environment, mitigate renewal risk on bank credit, align debt service coverage ratio calculations and accomplish the leveling of annual debt service requirements between various outstanding credit agreements.
Ziegler served as the Lead Underwriter of the Series 2016C Bonds while PNC Bank and Key Bank acted as co-managers for 10% each. The 22-year bond issue achieved an average yield of 3.66% and a yield to maturity of 4.11%. Net Present Value Savings on a combined basis was $1.6 million or 6.7% of the refunded bonds. The Series 2016C Bonds are rated "BBB-" with a negative outlook by S&P Global.
Tom Meyers, Managing Director in Ziegler's senior living practice, stated "Ziegler has served OPRS for more than 30 years. It was great to be able to help a historic partner to achieve a number of goals in the realignment of its capital structure and to lock in strong economic savings in what turned out to be the tail end of a very favorable interest rate market."
Ziegler is one of the nation's leading underwriters of financing for not-for-profit senior living providers. Ziegler offers creative, tailored solutions to its senior living clientele, including investment banking, financial risk management, merger and acquisition services, investment management, seed capital, FHA/HUD, capital and strategic planning as well as senior living research, education, and communication.
For further information on the structure and use of this issue, please see the Official Statement located on the Electronic Municipal Market Access system's Document Archive.
For more information about Ziegler, please visit us at http://www.Ziegler.com.
About Ziegler:
The Ziegler Companies, Inc., together with its affiliates (Ziegler), is a privately held, specialty investment bank with unique expertise in complex credit structures and advisory services. Nationally, Ziegler is ranked as one of the leading investment banking firms in its specialty sectors of healthcare, senior living, religion, and education, as well as general municipal and structured finance. Headquartered in Chicago, IL with regional and branch offices throughout the U.S., Ziegler provides its clients with capital raising, corporate finance, FHA/HUD, strategic advisory services and research. Ziegler serves institutional and individual investors through its wealth management and capital markets distribution channels.
Certain comments in this news release represent forward-looking statements made pursuant to the provisions of the Private Securities Litigation Reform Act of 1995. This client's experience may not be representative of the experience of other clients, nor is it indicative of future performance or success. The forward-looking statements are subject to a number of risks and uncertainties, in particular, the overall financial health of the securities industry, the strength of the healthcare sector of the U.S. economy and the municipal securities marketplace, the ability of the Company to underwrite and distribute securities, the market value of mutual fund portfolios and separate account portfolios advised by the Company, the volume of sales by its retail brokers, the outcome of pending litigation, and the ability to attract and retain qualified employees.
# # #