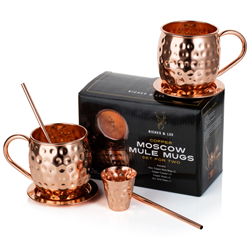 It would be the perfect gift to receive at any time of the year, especially Christmas
(PRWEB) December 09, 2016
As more people globally celebrate with their loved ones and enjoying time together, socialising and particularly drinking seem to be one of the more popular pastimes. British company Riches & Lee has set its sights on helping drink lovers by promising a premium drinking experience by actually improving the taste of the drink people frequently consume utilising the magic of 100% genuine copper. They are pleased to officially launch their exclusive, handcrafted copper mugs set on Amazon. Copper, is an incredible metal and whilst nothing new, has in fact been used for centuries as a drinking vessel. However, it wasn't until the 1940's where it become a true hit classic now known the World over as the "Moscow Mule".
A Moscow Mule (also known by the name "Vodka Buck") is a refreshing cocktail containing vodka, fizzy ginger beer, and some tangy lime juice while also being typically garnished with a lime wedge. However, it wouldn't have justice without being served in beautiful Riches & Lee authentic Moscow Mule copper mugs to maximise the taste and authenticity of the drink. Unfortunately, whilst there are many imitations on the market which have harmful chemical coating or are simply cheap knock offs the original Mule drink. Riches & Lee pride themselves on provided, a premium, 100% genuine copper experience for true drink lovers and people who like to entertain and dare we say it, show off.
Now, whilst using a copper Moscow Mule mug set has become very popular for this one cocktail alone, there are in fact many other variations of delicious drinks a copper mug would be ideal for. Riches & Lee have provided a list of additional delicious variations in a bonus cocktail recipe eBook which accompanies their copper mug set of 2 now on sale at Amazon.com. The complete set includes everything needed to enjoy the drink to the maximum. Two copper mugs, two copper coasters, two straws and an attractive hammered copper shot measuring glass.
Kimberly Riches, co-founder at Riches & Lee explains "Temperature specifically is one of the main selling points of our copper mug. As many drink connoisseurs know, a copper mug provides a chilled, extra cool, icy drink sensation heightening your senses due to the way the copper metal reacts to the drink." Riches went on to say "We wanted to create something modern, solid and super effective using the latest handcrafting methods, yet keeping it look stunning with its hammered effect and maximising the drinking experience. We believe we have done just that. It would be the perfect gift to receive at any time of the year, especially Christmas and wouldn't look out of place in top end bars or wedding venues."
Riches and her partners are thrilled with the incredible response the Copper Mug set has received already from people just using it and are thrilled by the reviews. "We've just released our Copper Mug set on Amazon, so we're only in the early stages of hearing from customers directly who've purchased it," she explains. "The extensive test-marketing we did pre-launch has been well worth the time and did not anticipate such a large demand beating down our door from day one. Our sets have literally landed at Amazon FBA fulfilment center and before you know it, are straight back out and being delivered to our customers in time for Christmas".
Cocktail enthusiasts and drink lovers alike are encouraged to sign up and join a growing community of likeminded people. For more information visit RichesandLee.com, or connect with the company via their copper mug video on YouTube, Facebook, Instagram or Twitter. Each Riches & Lee Copper Mugs set includes a cocktail eBook to help customers become experts in minutes. The product is backed by Riches & Lee's 100 percent no-hassle lifetime money-back guarantee, which promises a no questions asked, full refund if dissatisfied.
Riches & Lee recently announced that to celebrate the launch of their premium Copper Mugs Set being exclusively available on Amazon, that for a limited time customers can receive 35% off the RRP with a further 10% introductory discount during December 2016 by using the coupon code "PRSAVE10" at checkout when they purchase on Amazon here https://www.amazon.com/dp/B01M5GLFM6