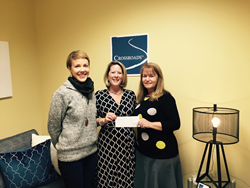 We were honored to be the beneficiary of this inaugural event because we provide treatment for women, by women.
Scarborough, Maine (PRWEB) December 06, 2016
It was a day for women, organized and run by women at the Maine Women's Magazine inaugural Maine Women's Expo. Hundreds of women gathered to check out retailers, demonstrations, vendors, services, and more – all while supporting an amazing local resource. The expo's beneficiary this year was Crossroads, a fully-accredited gender-responsive treatment center providing multi-level services for women with addiction or behavioral health concerns. All proceeds raised from ticket sales were donated to the facility, totaling $3,200. Karina Napier, Sales Director & Ann Duddy, Advertising Account Manager of Maine Women's Magazine presented the check to Crossroads on Monday, December 5.
"We were honored to be the beneficiary of this inaugural event because we provide treatment for women, by women," said Shannon Trainor, Chief Executive Officer at Crossroads. "This expo is about celebrating and highlighting women's wellness services, businesses for women, and organizations run by women, and addiction and behavioral health services for women align with this goal and are a much-needed service in the Maine area."
The Maine Women's Expo featured a variety of businesses run by women, many offering products and services geared toward women. It was an opportunity for residents to explore and support local resources while having a good time. There were interactive exhibits, demonstrations, retailers, food and beverage vendors, and much more. Crossroads also had a booth to provide more information about its individualized treatment options and how these programs benefit clients.
Addiction and mental health disorders among women are a growing problem in Maine, but Crossroads offers women a safe, effective way to receive the help they need to overcome addiction and remember who they wanted to be. While the program has expanded in recent years to treat both women and men, it was originally a facility specifically for women's addiction treatment. The Back Cove Women's Residential Program and the Children and Mothers Program are still geared toward females and the unique challenges that they face in addiction recovery.
All proceeds from ticket sales were donated to Crossroads, and the organization will put these funds toward its client scholarship fund. This fund helps increase access to life-changing treatment by providing financial assistance to those in need. All clients deserve the opportunity to engage in treatment for addiction and behavioral health issues, and recovery is possible. Crossroads offers residential and outpatient programs as well as group therapy and a program for family and friends.
Crossroads is proud to have been a part of this wonderful event and to be selected as this year's beneficiary. The organization will continue to provide high quality, compassionate care to women (and men), and help clients to break the grasp of addiction and remember who they wanted to be, living a fulfilling life in recovery.
More information about Crossroads is available online at http://www.crossroadsme.com.
ABOUT:
Crossroads is a fully accredited addiction and behavioral health treatment center located in Scarborough, Maine. It is a member of the National Association of Addiction Treatment Providers and accredited by the Commission on Accreditation of Rehabilitation Facilities (CARF). Clients engage in evidence-based, gender-responsive treatment to build the skills and strategies necessary to support long-term recovery. In addition to treating substance use disorders, the facility also addresses mental health disorders for more comprehensive and individualized care. Specialized programs are available for pregnant women and new mothers, as well as family and friends. Crossroads supports clients in remembering who they wanted to be and getting a fresh start through a substance-free lifestyle.