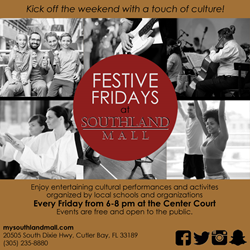 Actor's Playhouse & more bring exclusive Holiday performances to Southland Mall's "Festive Fridays"
Miami, FL (PRWEB) December 05, 2016
Southland Mall adds to its diverse lineup of various Holiday events during the month of December with two exclusive "Festive Fridays" performances from Actors' Playhouse and TUFF Martial Arts Academy.
To celebrate the joyous season, Actors' Playhouse delivers scenes and songs from its holiday production of A Christmas Carol, festive musical selections performed by the Young Talent Big Dreams All Stars, as well as a musical revue called Little Show of Horrors by acclaimed youth performance troupe, the Musical Miracles.
This "Festive Fridays" exclusive will give audience members a free sneak peak at the Actors' Playhouse production of the timeless tale of yuletide spirit, A Christmas Carol, as the full, family-friendly musical adaptation warms hearts at the Actors' Playhouse theater. December 9th from 6-8 p.m. in the Center Court.
In addition, Tuff Martial Arts Academy presents their "Kick into the Holidays" winter showcase featuring the school's most talented students. During this Holiday-themed performance, students will be dressed to impress and display their skills. TUFF students will also give audience members their finest martial arts tips to stay healthy and safe during this Holiday season. December 16th from 6-8 p.m. in the Center Court.
"Festive Fridays" at Southland Mall showcases the talents of local musicians, dancers and artists. Shoppers are invited to enjoy live free entertainment and interactive activities alongside family and friends at the "Festive Fridays" stage, located in the mall's Center Court from 6-8 p.m. "Festive Fridays" is a free event series open to the public.
Southland Mall is conveniently located on U.S. 1 and S.W. 205th Street, off the Florida Turnpike, Exits 11 or 12. For more information on Southland Mall or to learn about partnership opportunities for future "Festive Fridays," please mail inquiries to info(at)bristolpr(dot)com.
About Southland Mall
Southland Mall, located in South Miami-Dade County, Florida, the densest, most populous county in the southeastern portion of the state of Florida, has over 1 million square feet of gross leasable area. Southland Mall is conveniently located on U.S. 1 and SW 205th Street, off the Florida Turnpike, Exits 11 or 12, and is the only enclosed regional mall servicing South Miami-Dade County down to the Florida Keys. Southland houses over 100 specialty stores, including Macy's, Sears, JC Penney, TJ Maxx, Old Navy, Starbucks, a 16-Plex Regal Cinema and diverse Food Court. For more information about Southland Mall, visit mysouthlandmall.com on your mobile device, follow us on Twitter @solandmall, 'Like' us on Facebook at southlandmallmiami, or call (305) 235-8880.
About Gumberg Asset Management Corp.
Gumberg Asset Management Corp., a diversified real estate retail organization with a tradition of uncompromising integrity and unbeatable performance is the manager of Southland Mall. For further information, visit the Company's website at http://www.gumberg.com.