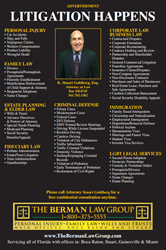 Boca Ratron, FL (PRWEB) December 06, 2016
K. Stuart Goldberg is a civil trial lawyer in practice for over thirty years. He has represented a wide variety of real estate owners, investors, developers, and condo/homeowners associations, as well as large and small businesses and individuals, principally in the areas of complex personal injury, professional liability and commercial litigation in the state and federal courts and administrative boards at both the trial and appellate levels.He started his legal career at the Miami Valley Regional Planning Commission as legal director of the Montgomery County Fair Housing Center. He moved to South Florida to manage Florida Rural Legal Services' housing unit in Belle Glade.
He has been involved in foreclosure litigation since the crisis struck Florida home owners in 2008. He learned how to defend residential foreclosures as a volunteer for the Florida Bar's Florida Attorneys Saving Homes project. He was in the inaugural group of mediators certified under Florida's Residential Mortgage Foreclosure Mediation program and has served as pro bono and contract attorney with the Broward County Legal Aid Society and Palm Beach County Legal Aid Society where he handled a large volume of foreclosure cases funded by the US Dept. of Housing and Urban Development (HUD) and the Attorney General foreclosure settlement fund.
Mr. Goldberg received his Juris Doctor (JD) degree from The Ohio State University's prestigious Moritz College of Law. He lectures on attorney ethics for the National Business Institute and the CEU INSTITUTE on Claims Management Ethics and Standards of Professional Conduct. He is AV rated by Martindale –Hubbell®, its highest distinction.
Areas of Practice:
Foreclosure Litigation
Quiet Title/Declaratory Actions
Personal Injury Claims
Insurance Disputes
Commercial Litigation
Medical Malpractice
Professional Liability
Awards:
Philip H. Corboy Scholarship & International Academy of Trial Lawyers Scholarship Award (NITA)
Certificate of Recognition for Distinguished Fair Housing Service, U.S. Dept. of Housing and Urban Development
Distinguished Alumnus, College of Liberal Arts, Wright State University
Education:
The Ohio State University Moritz College of Law
– J.D (Juris Doctor)
Wright State University, Dayton, Ohio
– Bachelor of ArtsMagna Cum Laude
About The Berman Law Group
Established in 2008, the Florida personal injury attorneys the Law Offices have quickly garnered a well deserved reputation as indefatigable and fearless defenders of the rights of their clients. With offices in Boca Raton, Miami, Gainesville and Stuart, a driving desire to be among the top attorneys in Florida, and serving clients throughout Florida, we strive to treat you like our friends and neighbors, working diligently to identify and understand your personal and specific wants and needs. The Florida lawyers at The Berman Law Group believe that developing this bond with you enables us to maximize your recovery and bring your personal injury case to a satisfactory close. We understand the stress and uncertainty facing those who have been injured through the negligence of others, and have great compassion for the physical, emotional and financial problems that often follow an accident, causing families to suffer, and work diligently to provide you with the legal strategy and tools you need for success.
1-800-375-5555