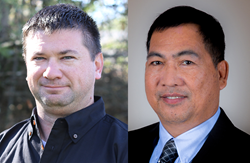 We look forward to the future possibilities that these changes and additions mean to our company - Steve Brock, Gate Precast Senior Vice President of Engineering
Jacksonville, FL (PRWEB) December 07, 2016
Gate Precast Co. continues the expansion of its engineering staff through recent key hires and transfers.
Nate Brooks has been appointed as BIM Managing Director, coordinating the BIM (Building Information Modeling) efforts of all of Gate's plants and offices. Having served in both engineering and production, Brooks has the knowledge and experience in what is required to take a precast concrete project all the way from design to construction. He will remain based in Gate's Winchester, KY office.
Gate Precast Senior Vice President of Engineering Steve Brock said Gate continues to be an industry leader in the use of BIM technology. "Nate will coordinate the use of BIM in engineering, and in the plant, field and other departments to pick up efficiencies and explore new opportunities across all of Gate's facilities," he added.
Fecky Langi, PE, has been appointed Engineering Manager at Gate's Kissimmee, FL, office. Langi has more than 13 years of precast concrete experience in engineering design, management and quality control. He is also a PCI Certified Inspector.
In his new position, Langi will oversee all engineering at the Kissimmee plant. To further augment the Kissimmee staff, Minglu Xu (Olivia), PE, will transfer from Gate's Hillsboro, TX, office in early 2017, where she has served for the last three years as a project estimator, and will report to Langi. "We look forward to the future possibilities that these changes and additions mean to our company," Brock said.
More About Gate:
Gate Precast Company is a subsidiary of Gate Petroleum Company, a privately-held diversified corporation headquartered in Jacksonville, FL. Gate Precast has become one of the largest and most diversified precast concrete producers in the United States, with eight manufacturing facilities, and is known for its design-assist collaboration with design teams. Annually, the company is recognized as a top subcontractor by Engineering News-Record Magazine and wins Best-in-Class PCI Design Awards for a wide range of projects. For more information, please visit http://www.gateprecast.com.