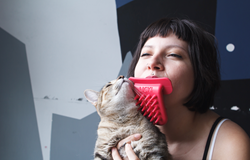 We designed the LICKI brush to bring cat owners closer to their cats...
Portland, Oregon (PRWEB) December 06, 2016
PDX Pet Design, the world's most innovative developer of intelligent cat toys and products, today announced that the brand new LICKI brush would be ready for shipping immediately, with delivery before the holidays to all U.S. locations available. After closing an extremely successful funding campaign via Kickstarter this summer, production has been completed on the new LICKI brushes a month earlier than previously anticipated. For anyone interested in licking their cats as a wholesome display of affection, this recent news will come as a wonderful surprise.
"We designed the LICKI brush to bring cat owners closer to their cats," says Co-Founder of PDX Pet Design, Tara O'Mara. "With tensions across the country post-election and pre-holidays at an all-time high, we're just thrilled to be able to do our part to help our fellow Americans find some love and tenderness, via their cats."
PDX Pet Design has been producing high quality, intelligent cat toys for the world since 2013, when their first successful product (SHRU) also launched via Kickstarter. With nearly 5,000 backers for the project, they knew they were on to something special. This past summer, Tara and fellow Co-Founder Jason O'Mara created the LICKI brush, based on evidence they'd uncovered that suggested cats view and treat their human captors as large cats. "Cats groom each other as a form of social bonding," notes O'Mara. "As a human, you're left out of this very intimate daily ritual. We wanted to change that."
The reception across the Internet was unexpected and overwhelming, with features stories on the infamous LICKI brush reaching such outlets as The Huffington Post, which noted that the "LICKI would help the affection run both ways," and the NY Daily News, which said, "This is fur real." Mashable asked the question, "What do you get for the cat person who has everything, but still wants to lick their pet?" Indeed. The LICKI brush is the answer. With the holidays fast approaching, the new LICKI brush can be ordered and delivered with plenty of time to add it as stocking stuffers or white elephant party gifts this year.
To learn more about the new product, development plans, or to book an interview, contact Tara O'Mara at 1.503.432.1492 or via email, or visit the website at http://www.lickibrush.com.
About PDX Pet Design
At PDX Pet Design, we are always thinking of ways to improve the quality of cat lives. The creation of LICKI was an act of love, as we strived to provide a more fulfilling environment for our own cats. When we started seeing the immediate benefits of mutual grooming, we knew we couldn't keep LICKI to ourselves. In 2014, we developed and shipped SHRU - The Intelligent Cat Companion to over 4500 cat-loving individuals worldwide. SHRU was the first-ever intelligent cat toy and continues to delight feline friends all over the world.
About the LICKI Brush
We have designed LICKI brush to bring pet owners and their cats closer. LICKI is a high-quality, soft silicone brush, designed to feel pleasurable to your cat's sensitive skin. Gently grasp LICKI's bite portion with your teeth, slowly approach your cat when she is sleeping or in an otherwise pleasant mood, and ease into the soothing and mutually beneficial licking behavior of cats. Don't be surprised if your cat licks you back.