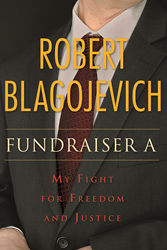 Winner of the USA Best Book Awards 2016 for law
Chicago, IL (PRWEB) December 06, 2016
Legal thriller "Fundraiser A: My Fight for Freedom and Justice" (Northern Illinois University Press) by Robert Blagojevich named winner of the USA Best Book Awards 2016 for law. A true story that is testament to the human will to struggle against overwhelming odds to right a wrong.
As a former white collar crime criminal defendant who beat the odds of conviction in federal court, Robert Blagojevich, learned many lessons which can be helpful to anyone who is facing a criminal indictment, or legal team representing the defendant.
Recognized as a white collar criminal consultant,, Blagojevich hopes to help others in similar situations navigate the journey.
He knows how it feels emotionally, physically, and financially to deal with the uncertainty that comes when an individual is unexpectedly swept into the criminal justice system.
This book reveals the strength and courage of an innocent man determined to prevail, how he managed to get by and survive being wrongly prosecuted, and ultimately sounds a warning bell to the rest of America's citizens that they 'must continue to protect their civil liberties and hold their public officials accountable.
"Fundraiser A" is a thought provoking story told from an "inside the Courtroom" perspective. It is a gripping first-hand account of how Robert Blagojevich rose to the biggest challenge of his life and walked away with his freedom. It offers readers not only a previously untold story of a fascinating trial that captured the attention of a nation, but also a look at a universal relationship between brothers.
Books are available online and in bookstores
To learn more, visit: robertblagojevich.com
ABOUT THE AUTHOR
Robert Blagojevich was born and raised in Chicago and received his MA in Eastern European studies and economics. After leaving active duty with the US Army, he continued in the US Army Reserves while working in the financial services industry. Robert is currently a small business owner in Nashville, Tennessee.
# # #