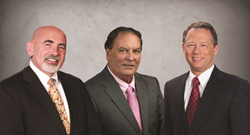 This book is an indispensable resource for educators who are preparing today's learners for an increasingly advanced future.
West Palm Beach, FL (PRWEB) December 08, 2016
LSI Publishing has been recognized by 2016 Best Book Awards for three titles in the Education/Academic category. Author David A. Sousa received the first place award for his book Engaging the Rewired Brain. Author Michael D.Toth was named a finalist for Who Moved My Standards?: Joyful Teaching in an Age of Change; as was internationally renowned education expert Dylan Wiliam for Leadership for Teacher Learning: Creating a Culture Where All Teachers Improve So That All Students Succeed. LSI Publishing, a division of Learning Sciences International, was honored to be selected for three out of four awards in the Education/Academic category.
In Engaging the Rewired Brain, bestselling educational neuroscience author Dr. David A. Sousa presents productive ways teachers can engage students whose attention, memory function, critical thinking, and social behavior may be fragmented by technology. Sousa looks at how technology can support and encourage effective instructional strategies for educators of any age group and in any school setting. With a glossary of scientific and technical terms and a resources section to connect educators with supplemental materials and information, this book is an indispensable resource for educators who are preparing today's learners for an increasingly advanced future.
Author Michael D. Toth provides a touching parable in Who Moved My Standards? that inspires educators to tackle rigorous new standards with renewed confidence and enthusiasm. The book includes a Resources section with the SOAR (Students' Opportunities for Achieving Rigor) Rubric, which drills down the differences between traditional (old economy), student-centered, and real-world applied (new economy) techniques for gathering student evidence.
In Leadership for Teacher Learning leading education authority Dr. Dylan Wiliam explains how formative assessment, when applied properly, helps to create a structured and rigorous learning environment that increases student achievement. Wiliam also discusses why efforts to change classroom practice have been relatively unsuccessful—and explores specific classroom tactics that do tend to raise student achievement.
All three books are available through the Learning Sciences International bookstore, Amazon, and Barnes & Noble.
LSI publishing offers a wide array of pedagogical titles, from practical instructional guides for teachers to in-depth publications on the latest educational research for school and district leaders. LSI authors include renowned international researchers Robert J. Marzano and Dylan Wiliam, as well as leading educational voices David Sousa, William Bender, Beverly Carbaugh, Michael Toth, Joseph Murphy, and Susan Brookhart. To learn more about our books, visit http://www.learningsciences.com/books-publishing/.