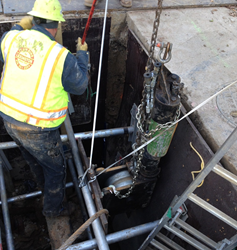 I want one of these, this tool is amazing.
Alameda, CA (PRWEB) December 06, 2016
On December 1, 2016, Lexington Plumbing of Kansas City, MO employed TRIC Tools' (M100) 100 ton pipe bursting equipment to replace 120 linear feet of 8" sanitary sewer in Roeland Park, KS. TRIC's Midwest Trenchless Sales representative Bill Seals coordinated the job. Lexington Plumbing powered the M100 with their Bobcat E55 . The pipe burst took place at St. Agnes Catholic Church and School located at 3220 W. 53rd Street, Roeland Park, KS. The job required that 120 linear feet of 8" clay sanitary sewer pipe to be replaced under the church parking lot, church drive way and the city street. The pipe was located 15' feet below the surface. Once the pipe insertion pit, bursting equipment pit and shoring were installed the job went very smoothly.
"Most of the pipe bursting jobs I go on, there are a lot of questions in the training process that tend to slow down the progress of the job," Bill Seals remarked, "Thanks to the professionalism of Lexington (Plumbing) crew they really knew what they were doing, and made this job go without any problems. He continued, "I was really impressed with how quickly they completed this job." Lexington Forman Jason Carver commented to Bill, "I want one of these, this tool is amazing." Lexington Plumbing purchased TRIC's X30 Lateral Pipe Bursting tool in February 2016. Lexington Plumbing's has done approximately 20 pipe bursting jobs since buying the X30 pipe bursting system.
TRIC invented and patented the first Lateral Pipe Bursting System while simultaneously gaining national approval of the HDPE pipe for its use, thus opening the market for trenchless home sewer replacement in America.
For more information about Trenchless Pipe Bursting equipment or the trenchless industry in general - please call 888-883-8742 or visit TRIC's website at: http://www.trictrenchless.com to see how they can answer any of these questions for you. Get your Trenchless Sewer and Water Replacement service off on the right foot, one lateral at a time.