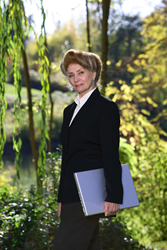 Grants Pass, OR (PRWEB) December 07, 2016
Sharon Kleyne, host of the nationally syndicated radio program, The Sharon Kleyne Hour Power of Water, Global Climate Change and Your Health on Voice of America, declared on her radio program in November 2016 the need to educate people about cyber bullying, and to call attention to the fact that when these bullies attack leaders in corporate America, they are trying to take advantage of successful algorithms and gain attention for themselves. Even worse, bullies of corporate leaders might compromise the value and integrity of a company's international IP and the security of the U.S. Kleyne, who created the first successful global company focusing exclusively on water, is internationally recognized as an educator, research leader and creator of new water technology. She has also led efforts to educate people about the crisis of dehydration due to excess evaporation of the body's water vapor and is expanding her efforts to fight bullies. Kleyne said that she would like to see seminars on bullying and cyber bullying taught in schools, churches, businesses and organizations around the world.
According to http://www.bullyingstatistics.org, cyber bullying involves using technology such as the internet and cell phones to harass other people. This activity can include sending messages or threats to a person's email account or cell phone, spreading rumors online, posting harmful and threatening messages on social networking sites, stealing someone's account information, posting unflattering pictures and sexting. "Bullying and cyber bullying have become so pervasive in this digital, social media age," Sharon Kleyne said, "that virtually no one is safe." Kleyne pointed out that this supercharged crisis was addressed in March 2011 by First Lady Michelle Obama, who with her husband convened the first ever White House conference on the prevention of bullying and cyber bullying. The Obamas have continued to lead national efforts to curb bullying in all its ugly manifestations, and it's encouraging, Kleyne said, that the incoming First Lady, Melania Trump, continuing their work, has announced that her #1 platform will be the prevention of bullying of children in schools.
"Unfortunately," said Sharon Kleyne, bullies have always plagued human society. Today, cyber bullies are the most untrustworthy and unscrupulous people on the internet. "For instance, the company I founded and direct, Bio-Logic Aqua® Research Water Life Science®," Kleyne revealed, "has been the victim of completely baseless and unsubstantiated claims. We don't know who the person is. We've never even met them!" Kleyne believes that her company's high profile has a lot to do with the unwanted attention. "Through the years," Kleyne said, "we've been getting a million impressions a month, and I speculate that our strong social media presence attracts bullying."
"Essentially," Sharon Kleyne said, "bullies and cyber bullies lie for a living. They are bored individuals who seek attention, and sometimes profit, from their shady activities." At this point there is little legal recourse for victims. "When we were attacked," Kleyne says, "I contacted the authorities. They said there was not much we could do but to save any communications they might send us and monitor the situation for possible future legal action. The authorities opened a file on the website and are doing the same."
So, what can one do about cyber bullying? In dealing with a traditional bully, Sharon Kleyne noted that not responding often worked well. After all, the victim's reaction was exactly what the bully was after. But in the technological world of social media, cyber bullying becomes the anti-gift that keeps on giving. "It's an outrage," Kleyne says, "and we want to make sure that everyone is educated about the activities of these frauds. At the same time," Kleyne adds, "anyone in corporate America has a responsibility to their company, its customers, backers and staff people." Kleyne points out that the best response is to educate people about cyber bullying and become proactive. Acknowledge at your own site the online, parasitic presence of the cyber bully. Explain the situation and the steps you have taken to deal with it. "Finally," says Kleyne, "save the evidence and lobby legislators for laws that would allow the prosecution of these unsavory characters that don't care who their lies hurt."
"Until the regulations and laws are changed," Sharon Kleyne added, "everyone, especially people in corporate America with international IP to protect, must be ever-vigilant and aware of the character defamation and the untruths that cyber bullies are posting online. Everyone generally needs to do a better job looking out for each other, and that includes the major search engines, which need to be more responsible and take steps to eliminate cyber bullying."