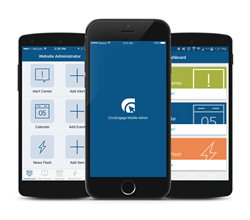 "We know we are on the cutting edge by offering our customers mobile website administration tools, which is why we plan to add to our current offering in 2017 and beyond."- Sascha Ohler, Vice President of Product Strategy, CivicPlus
MANHATTAN, KS (PRWEB) December 07, 2016
CivicPlus, the nation's leader in government website design and technology, has launched a mobile app that will allow government website administrators to add, modify, and approve website categories and items from any Apple® or AndroidTM mobile device. The goal of the new CivicEngage MobileAdmin App is to meet the needs of CivicPlus' customers to more conveniently, and efficiently, communicate with citizens.
"What we hear from our customers time and again is that they are being pressured to do more with less," said Sascha Ohler, vice president of product strategy at CivicPlus. "With the proliferation of mobile device technology and an understanding that our customers are looking for tools that will enable them to manage their citizen communications when they are away from their desktop computers, we wanted to offer our customers a solution that will help them work as efficiently as possible."
The MobileAdmin app allows CivicEngage customers to manage citizen communications via the Alert Center, a critical module of its content management system (CMS). Customers may also choose to enable access to the News Flash and Calendar CMS modules, and starting in 2017, the Citizen Request Tracker (CRT) module.
"We know we are on the cutting edge by offering our customers mobile website administration tools," said Ohler, "Which is why we plan to add to our current offering in 2017 and beyond. We are constantly seeking customer feedback and using it to shape future product enhancements. The MobileAdmin app will be one more solution that evolves over time to continue to meet the evolving needs of our customers."
The CivicEngage MobileAdmin app will be available to CivicPlus customers from the Apple iTunes® Store and the GooglePlayTM Marketplace in December, 2016.
About CivicPlus
CivicPlus is the integrated technology platform for local government, working with over 2,400 local governments including states, municipalities, townships, and counties. CivicPlus has been selected by Inc. Magazine as "One of the Fastest-Growing Privately Held Companies in the U.S." since 2011. For more information about our integrated software solutons, visit CivicPlus.com.
Contact:
Mark Friesen
Director of Marketing
(785) 493-6161
friesen(at)civicplus(dot)com