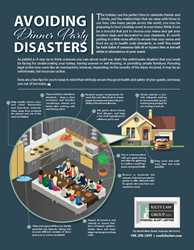 You could be held liable if someone falls ill or injures him or herself while in attendance at your event.
Boston, MA (PRWEB) December 06, 2016
The holidays are the perfect time to celebrate friends and family, and the relationships that we value with those in our lives. Like many people across the world, you may be preparing to host a holiday event in your home. While it can be a stressful feat just to choose your menu and get your location clean and decorated to your standards, it's worth putting in a little more effort to ensure that your venue and food are up to health code standards, as well! You could be held liable if someone falls ill or injures him or herself while in attendance at your event.
As painful as it may be to think someone that you care about could sue, that's the unfortunate situation that you could be facing for undercooking your turkey, having uneven or wet flooring, or providing unsafe furniture. Pursuing legal action may seem like an overreaction; however, depending on the severity of the injury incurred, it may be an unfortunate, but necessary, action.
Here are a few tips for you to keep in mind that will help ensure the good health and safety of your guests, and keep you out of hot water.
1.) Observe kitchen cleanliness standards – keep a clean workspace and disinfect countertops, utensils and hands after working with each food product.
2.) Research proper temperatures for meat, fish, and other foods to ensure proper doneness and reduce the possibility of food-borne illnesses.
3.) Ask guests about known food allergies, and keep a list of all ingredients for reference, just in case.
4.) Keep candles, stoves, ovens and other flammable and hazardous materials clean, away from potential fire-starters and out of the reach of children.
5.) Inspect all furniture and utensils to ensure freedom of hazards (splinters, breaks, tears, and sharp edges) and proper working order.
6.) Clean and inspect all floors to identify potential trip hazards, taking into account different varieties of shoes and cover or correct, as needed.
7.) Keep yards and walkways clear and easily passable.
8.) Clearly indicate or provide adequate parking to accommodate guests, ensuring easy passage for cars coming in and out.
9.) Restrict or moderate the amount of alcohol provided to guests or offer alternate rides for guests who may have consumed too much.
10.) Stay in communication with your guests during and after the gathering to confirm overall happiness and good health.
The attorneys with Kiley Law Group wish you, your family and friends a safe and happy holiday season.