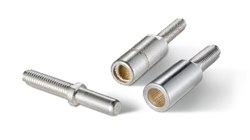 Camarillo, CA (PRWEB) December 07, 2016
ODU, a worldwide leader in designing and manufacturing high performance connectors, is now promoting to the US market its advanced highly customizable contact technology solutions.
ODU Single Contact Technology portfolio includes: ODU SPRINGTAC®, ODU LAMTAC® and ODU TURNTAC®. These advanced technologies are ideal for a wide range of applications that require customization from industries like emobility, industrial, test and measurement and medical. Some examples of the applications that can benefit of these technologies are: industrial automation, portable electronics charging, medical device components, dental treatment units, EV charging, bus bar power connections, high voltage power supplies, and power distribution.
ODU SPRINGTAC® with patented Springwire technology consists of individually suspended Springwires that offer a high number of contact surfaces even in small diameters. With ODU SPRINGTAC®, even the smallest design has up to 15 springs that are mounted within a 0.76mm contact diameter. Each spring, making contact with the pin, allows for up to 100,000 mating cycles, with consistently low contact resistance.
ODU LAMTAC® with Lamella technology consists of stamped contacts that ensure high contact reliability. Contact mating and de-mating force and volume resistance are significantly lower while the numbers of mating cycles are double, up to 10,000+ cycles.
ODU LAMTAC® & ODU SPRINGTAC® also provide high vibration stability, various designs with crimp or solder termination, sizes from 22AWG to 4/0, and high current carrying capacity – up to 1,570A.
ODU TURNTAC is a rugged contact system that offers turned slotted contacts. Additional product features include: low, stable mating and demating forces, over 10,000 mating cycles, wide variety of contact diameters from 1.5 to 9mm, mating ensured at up to 5° misalignement angle, various termination types: solder, threaded or crimp termination.
ODU provides also a full suite of complementary products and services including innovative options for cable assembly, over molding and turn-key systems, local one-to-one engineering support, competitive lead time, custom connector capabilities, rapid prototyping and product development, factory direct.
For more product information go to: http://www.odu-usa.com/products-solutions/single-contact-connectors.html
ODU Group: global representation with perfect connections
The ODU Group is one of the world's leading suppliers of connector systems, employing 1,650 people around the world. In addition to its company headquarters in Mühldorf am Inn (Germany), ODU also has an inter¬national production and distribution network throughout Europe, North America and Asia. ODU combines all relevant areas of expertise and key technologies including design and development, machine tooling and special machine construction, injection, stamping, turning, surface technology, assembly and cable assembly. The ODU Group sells its products globally through its eight subsidiaries in Denmark, England, France, Italy, Sweden, the US, China and Japan, as well as through numerous international sales partners. ODU connectors ensure a reliable transmission of power, signals, data and media for a variety of demanding applications inclu¬ding medical technology, military and security, eMobility, energy, industrial electronics, and measurement and testing.
For press inquiries, please contact:
Dana Stoica, Head of Marketing North America
Phone +1 (805) 484-0540 Fax: +1 (805) 484-7458
Email: dana.stoica(at)odu-usa(dot)com