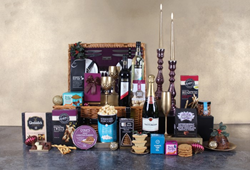 (PRWEB UK) 8 December 2016
Back in the early summer the team at Alexir Brands designed and delivered a collection of hampers and gifts for their Todhunter Christmas Collection 2016. Since then they have been selling beyond expectations overthe last month in the retailer Costco, online on Not On The High Street and directly from their warehouse to customers through their website http://www.giftsandhampers.com.
The Todhunter story began in 2007, born out of a family name and a long-established traditional hamper brand. They supply luxury bespoke gifts and hampers to both commercial business and directly to the customer. Todhunter baskets and gift boxes are filled with new and traditional food products on the market. From soft and fruity panettone, light and crisp champagne to deep and rich fruit puddings, they are filled to the brim with festive food and drink.
At the beginning of October, the Todhunter Christmas Collection went live on Costco online with the Todhunter hampers and the team were delighted with the positive feedback and sales received. Christmas Sparkle, which is a personal team favourite, flew off the shelves. Like a proud parent Alex Maynard, Brand Manager for Todhunter, already has the basket next to his log burner full of wood ready for this winter! See the unboxing of a hamper here.
Following the listing in Costco the collection was then taken up by the ecommerce giant Not On The High Street. Alexir Brands were delighted that the Todhunter collection was featuring a selection of gifts and hampers starting at £29.99 all the way up to the incredible Three Kings hamper at £199. A favourite at hamper HQ, due to its luxury contents and the fantastic value for money, is The Frosty Feast with a combination of an attractive fitted picnic basket for two, complete with cutlery, crockery and hand-selected delicious treats. The team are also particularly proud of their After Dinner Collection; each gift has been carefully handpicked to ensure everybody is a generous guest or a perfect host this Christmas, all displayed in their beautiful Todhunter gift boxes. Their best seller also featuring on Not On The High Street is The Home for the Holidays hamper which is bursting with delicious favourites. It includes the tempting 'Stas' hand decorated milk chocolate bar and indulgent Noel truffles. This carefully hand-picked hamper includes something for everyone and is held within a stylish chunky weave basket with a trendy rope detail.
With only two weeks to go before the last order date (21st December 2016) hamper aficionados need to get their skates on if they want to gift a Todhunter hamper this year to their family and friends.
About Alexir Brands
Alexir Brands are one of the five specialist divisions of the Alexir Partnership. Alexir Brands is a brand and retail focused product development team working on behalf of their own brands as well as joint partnership brands to develop and deliver new and exciting products. They develop, create and supply a unique range of quality retail food hampers working with established luxury food suppliers.
For more information:
W. http://www.giftsandhampers.com
T. 00 44 (0)1825 700897
E. info(at)giftsandhampers.com