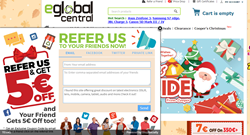 We are impressed by how swiftly the ShopSocially referral program has driven up the referral traffic and conversion rate for us. - Kathy Ngai, Business Manager at eGlobal Central EU
Sunnyvale, CA (PRWEB) December 07, 2016
ShopSocially is assisting eGlobal Central EU, the online consumer electronics and gadgets store, to deliver increased conversions on its website through the referral program. By using ShopSocially's 'Refer-a-Friend' solution, eGlobal Central EU has discovered that each referral post generated approximately two referral clicks back to the website. The referral traffic generated from these referral posts converted at a rate of 3 times higher than the usual website conversion percentage.
Refer-a-Friend enables website visitors of eGlobal Central EU to receive an instant €5 coupon code by referring a friend to the site. The friend also gets €5 coupon when the referral link is clicked. The referral process is simple – the customer can refer a friend by email or through social media platforms like Facebook and Twitter along with a customized message. The referral program successfully taps both existing customers and new visitors to increase the reach of eGlobal Central EU. The program is simple to integrate, with a customizable layout to suit the client's site and mobile-friendly design so that it looks great and works beautifully on any device. The referral program is backed by detailed analytics, which enables the client to see the impact of the program on engagement levels and conversion figures. Referral statistics and overall return on investment can also be analyzed easily.
"We are impressed by how swiftly the ShopSocially referral program has driven up the referral traffic and conversion rate for us," commented Kathy Ngai, Business Manager at eGlobal Central EU. "The app seamlessly integrated into our existing website and the positive conversion results began coming in very quickly."
eGlobal Central EU is also using ShopSocially's 'Share-a-Purchase' app on the order completion page to convert the purchase delight of the customers immediately into referrals. The post-purchase referral action enables customers to spread the word about their purchases from eGlobal Central EU at the click of a button, making it easy for them to become ambassadors for the brand with a single action. It also offers customers with incentives in return for sharing their shopping experience with their friends and family via social networks. The post purchase referral campaign has generated almost ten referral clicks per shared post, with referral traffic converting at 2 times the site's usual conversion rate.
Along with the EU Site, eGlobal Central are running a similar set of campaigns on their UK, Italy and Spain sites and are witnessing impressive results.
"eGlobal Central is enjoying the advantages of two of our most popular apps," commented Samir Palnitkar, President at ShopSocially. "We are delighted to have enabled them to triple their referral conversion rate and double their purchase-sharing conversion rate as a result of the implementation of our innovative referral program."
About eGlobal Central:
eGlobal Central is a global online shop for all brands of consumer electronics and gadgets sourced from around the world. eGlobal Central provides the best price possible for each item listed and ensures that shopping on site is fun, cheap and stress-free. All products on eGlobal Central are 100% original and brand new, with no hidden costs. eGlobal Central has an extensive supplier network worldwide, through which they can offer low and competitive prices across all electronic products.
About ShopSocially:
ShopSocially is a SaaS-based social, referral and loyalty marketing platform that delivers up to 40% more revenue by enabling an increase in new customer acquisition, engagement, conversion rate and retention. More than 500 global brands are using ShopSocially to grow their business via proven strategies such as referral marketing, visual commerce, customer loyalty, social login, social gamification, customer Q&A and more.
The ShopSocially platform offers a comprehensive suite of marketing solutions, which eliminates the need to implement multiple, inconsistent solutions and delivers a measurable ROI. Our fully managed services option ensures no additional work for your marketing or IT team.
ShopSocially has won several awards and recognitions for its innovative technology. To learn more about how ShopSocially can help grow your business, please contact us on (650) 701-7759 or at http://www.ShopSocially.com