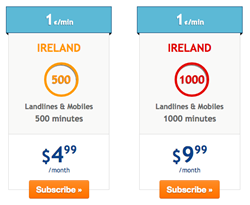 Monthly plans are definitely the best deals for calling Ireland.
Atlanta, Georgia (PRWEB) December 08, 2016
Irish people living abroad now have a great, economical way to keep in touch with their loved ones back home! KeepCalling.com has just launched 2 new monthly plans that offer very low rates for frequent calls to Ireland. Customers get 500 or 1000 minutes each month and pay only 1¢/min for their calls.
The new monthly plans are the best choice for everyone who makes calls to Ireland on a regular basis because they bring notable discounts. Ireland 500 costs only $4.99/month and includes 500 minutes to both landlines and mobiles in Ireland. Ireland 1000 comes at the price of $9.99/month and offers 1000 minutes to any number in this country.
The countries which customers can call through KeepCalling.com's monthly plans are: Bangladesh, Canada, China, Colombia, Germany, India, Ireland, Kenya, Mexico, Nigeria, Pakistan, Romania, South Africa, South Korea, Thailand, and United States.
Besides Monthly Plans, KeepCalling.com also offers Voice Credit. Customers can buy any amount between $2 and $200 and use it whenever they want to, as the credit never expires. The Voice Credit rates for calls to Ireland are 0.8¢/min for landlines and 2¢/min for mobiles, while an SMS costs 10¢.
KeepCalling.com offers a wide variety of calling options, to suit every need. Customers can make calls from:
1. any phone, through the use of local or toll free access numbers;
2. any computer, through the Web Call application;
3. any smartphone, through the KeepCalling app available for both iOS and Android devices.
Customers are happy both with the quality and with the prices offered by KeepCalling.com. On Trustpilot, a famous review site, KeepCalling.com receives constant feedback from its customers and currently has an 8.4 rating. One customer writes, 'Good quality service. Great on the road and at home. Exceptional voice clarity. I recommend KeepCalling to people that want a better calling experience.'
To find out more about KeepCalling.com's newest offer and campaigns, customers are invited to visit their blog at Blog.KeepCalling.com or to follow them on:

Facebook.com/Iamhomesick
Twitter.com/KeepCalling
Plus.Google.com/+KeepCalling
About KeepCalling.com:
KeepCalling.com is an interactive website designed by KeepCalling, a global telecommunications company registered in 2002 in USA. Presently, KeepCalling provides its services to hundreds of thousands of consumers and businesses, with a focus on customer satisfaction. KeepCalling was listed by Inc 5000 as one of the fastest growing companies in the USA for 5 consecutive years.