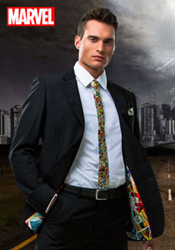 Formal attire doesn't have to be plain or boring. FunWear Suits is proof that business meetings, weddings, and proms might never be the same.
North Mankato, Minnesota (PRWEB) December 07, 2016
Marvel and FUN.com have assembled Earth's mightiest designers, suit makers and fashionable nerds to take up the fight against business and winter apparel mediocrity, and the result is FunWear Suits and FunWear Coats—two brand new clothing lines that bring Marvel's classic heroes to fans' attire like never before.
Marvel Super Heroes have long inspired comics, TV shows and even a whole cinematic universe, and now, with FunWear Suits and FunWear Coats, they have inspired classic indoor and outdoor apparel for both kids and adults. FUN.com collaborated closely with Marvel to make sure each design stays true to the characters, reflects the quality Marvel fans expect and maintains the classic comic and cinematic aesthetic both inside and out.
"Everyone here at FUN.com is obsessed with pop culture, and there's nothing that fuels that obsession more than the Marvel Universe," said Tom Fallenstein, CEO and founder of FUN.com. "Formal attire doesn't have to be plain, boring or all look alike. FunWear Suits will let our customers look professional and stylish while still taking pride in their love of all things Marvel. Business meetings, weddings and proms might never be the same after this."
The Secret Identity suits feature a finely constructed exterior that lets the customer blend in as long as they keep the jacket buttoned, while embroidered sleeves, themed buttons and a matching necktie give a small hint of the awesomeness that lies beneath. Once the jacket is unbuttoned or removed, the suit shows off its custom satin lining that features either a colorful Marvel iconography print or a dynamic Marvel hero image. This is where you'll find the Avengers, Captain America, Iron Man and Hulk, as well as classic comic panels straight out of the silver age.
The Alter Ego suits feature exterior printing front to back on both the jacket and pants, accurately recreating that character's costume as seen in the Marvel films. For now, Iron Man is the only suit available in this style. The familiar red and gold armor along with the bright blue Arc Reactor and repulsors make the suit look like it could be the latest in Stark tech.
And for the sharp little dresser who can't get enough of Marvel superheroes, the Secret Identity suits also come in child sizes. These feature all the same, fun subtleties as the adult versions, with their own unique interior designs made just for kids, such as Iron Man and Spider-Man.
FunWear Coats, for both kids and adults, blend elegantly with FunWear Suits. The same classic Marvel designs that inspired the suits also inspired the coats, creating a unique and eye-catching look. While the men's coats have understated details just like the Secret Identity suits, the children's coats loudly proclaim their favorite Marvel Super Hero, like Captain America, Thor, and The Incredible Hulk. Whether you're going to a midtown meeting or conquering a mountain run, FunWear Coats offer cold weather apparel options for any winter activity.
"We feel privileged to be able to bring these beloved Marvel characters into our customer's lives in such an unexpected way," Fallenstein continued. "From the fit, to the printing, to the custom buttons, each piece shows the amount of quality, craftsmanship, and care that went into each and every detail. We can't wait for people to wear them, and really, this is just the beginning."
Marvel FunWear Suits and FunWear Coats will be available exclusively from FUN.com. Suits start at $299.99 and coats start at $69.99. They are only available at FUN.com.
FunWear Suits and FunWear Coats have in stock availability now.
About FUN.com
Fun.com is the internet's premier retailer of costumes, collectibles and pop culture gifts. With a company culture worthy of its name, FUN.com employs a fantastic collection of people who love what they do and do what they love. As nerdy experts, they bring all the best pop culture products the world has to offer and deliver it to customers again and again with care and purpose. FUN.com also owns and operates HalloweenCostumes.com, which boasts the largest selection of exclusive costumes that can't be found anywhere else. Find out more about FUN.com at http://www.fun.com/
About Marvel Entertainment
Marvel Entertainment, LLC, a wholly-owned subsidiary of The Walt Disney Company, is one of the world's most prominent character-based entertainment companies, built on a proven library of more than 8,000 characters featured in a variety of media over seventy-five years. Marvel utilizes its character franchises in entertainment, licensing and publishing.
For more information visit marvel.com.
© 2016 MARVEL
FOR MORE INFORMATION CONTACT
Mark Bietz, CMO
651-280-7157