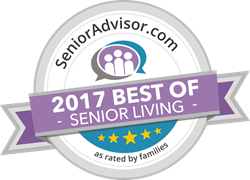 (PRWEB) December 06, 2016
SeniorAdvisor.com, the nation's largest ratings and reviews site for senior care and services, today announced the Best of 2017 Awards. Over 1,500 assisted living, in-home care, and other senior housing providers across the United States and Canada were recognized this year.
The Best of 2017 Awards, now in their fourth year, celebrate the communities and agencies that have consistently received outstanding feedback from families on the SeniorAdvisor.com website. By winning this prestigious award, the communities and agencies are among the top one percent of senior living care in the nation, simply by providing the level of care that their residents and residents' families deserve.
The top four U.S. cities with the most winners represent San Antonio assisted living, Houston assisted living, Tucson assisted living and Chicago assisted living providers. California, Texas, and Florida represent the top three states.
"It has been so gratifying to see the number of award winners increase year over year," said Ben Opps, General Manager of SeniorAdvisor.com. "Despite the same rigorous standards, we saw a 30 percent increase in total winners from 2016 to 2017 alone. Even more impressive, over the four years that we have been recognizing top providers with awards, the list of winners has increased a staggering 228 percent. It just goes to show that more and more providers are truly delivering an excellent level of care for their families. No matter what care type is receiving the award, they are receiving it for the same reason – they care about their residents and it shows. We are honored to be able to highlight these providers for the service and care they give and we are looking forward to celebrating more winners in the years to come."
Again this year, over half of the winners offered more than one type of care to their seniors. Assisted living was the most represented care type at 57 percent, followed by Alzheimer's care at 46 percent. Independent living made up 42 percent of award winners. The percentage of home care winners saw the largest increase again year over year, seeing a 72 percent increase from the number of 2016 award winners.
To qualify for a SeniorAdvisor.com Best of 2017 Award, winners must have maintained an average overall rating of at least 4.5 stars and have received three or more new reviews within 2016. Additionally, winners must offer at least one of the following types of care: assisted living, Alzheimer's care, independent living, low-income senior housing, skilled nursing, or in-home care in the United States or Canada.
To learn more about the Best of 2017 Awards and view the complete list of the North America's best senior care, please visit https://www.senioradvisor.com/blog/2016/12/best-2017-senior-living-awards/
About SeniorAdvisor.com LLC
SeniorAdvisor.com is the premier consumer ratings and reviews site for senior living communities and home care providers across the U.S. and Canada. The innovative website provides easy access to the information families need when making a senior care decision, and features nearly 100,000 trusted reviews and advice from local residents and their loved ones. For more information, please visit SeniorAdvisor.com or call (866) 344-5564.