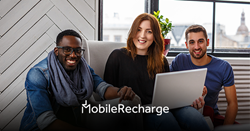 Fairly new to this service, but it works well for me. (Ivor Timson on Truspilot.com)
Atlanta, Georgia (PRWEB) December 08, 2016
MobileRecharge.com, the platform dedicated to online mobile top ups, announces new operators. Americans can now top up Go Smart mobiles online, in just a few seconds. Also, Tuenti mobiles in Ecuador and CV Movel Cape Verde phones can receive credit from abroad via MobileRecharge.com: https://mobilerecharge.com/.
Expats originally from Ecuador or from Cape Verde can now send credit to families back home who use mobiles pertaining to Tuenti Ecuador or CV Movel in Cape Verde. The recharge is instant, no matter where expats live now. Cape Verde is a new entry on the top up list of destinations on MobileRecharge.com, as a result of expats' feedback.
Besides Tuenti mobiles, Ecuadorians can also top up mobiles in Ecuador subscribed to Movistar, Claro and Cnt.
Independent smartphone users in the USA can top up their own Go Smart mobiles online in seconds on MobileRecharge.com. Other mobiles that can be refilled on this platform are those pertaining to networks like: Lyca Mobile, AT&T, Simple Mobile, T-Mobile, Verizon, MetroPCS, TracFONE, Ultra Mobile, EasyGo, H2O, ROK Mobile and TerraCom.
The online top up takes seconds to send and seconds to get to the destination. Most expats use it as a method to support parents and friends from the distance and as an alternative or an extra service to money transfers that take much longer.
Americans use the service because the online purchase is simple and saves time, money and hassle, that would otherwise be inevitable if going to the store to top up one's mobile.
According to reviews on the website and review platforms, MobileRecharge.com is among the safest tools for international top ups. Plus, it is highly appreciated for the flexibility of payment. All major cards are accepted, as well as PayPal too.
A free account on MobileRecharge.com requires no contract or other boundaries, and comes with several more benefits:
-Daily promotions
-Facebook giveaways: https://www.facebook.com/MobileRecharge.Fan/
-Holiday Offers
-Immediate customer support 24/7 in Spanish, English and other international languages
-All transactions available in one's account at any time
-No hidden fees
-The lowest processing fee on the global market
-Safety of transaction, as guaranteed by the certifications on the website: "Verified & certified", Trustee, etc.
-Transparency of communication with customers; the service is certified by BBB and Truste.
-Video tutorials available on YouTube and in one's account
MobileRecharge.com has been built per expats' feedback, as the most time-saving and economical alternative to offline mobile top ups.
MobileRecharge.com is a website dedicated to expats worldwide, travellers or professionals who live abroad temporarily, or independent mobile top uppers. MobileRecharge.com is also the initiator of the first World Top Up Day in history, dedicated to top up givers worldwide as a generous social category. The website is a brand of KeepCalling, with more than 10 year experience on the global market. The mother company is a telecommunications business registered in 2002 in the USA, listed by Inc 5000 as one of the fastest growing companies in the USA for 5 consecutive years. Presently, KeepCalling provides its services to hundreds of thousands of consumers and businesses, with a focus on customer satisfaction. In 2015 the company registered a revenue increase of over 200% from 2011 to 2014.