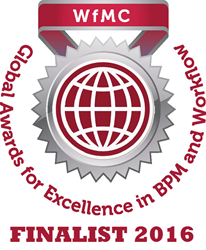 This project has been another great example for the power of an integrated approach of building a value-driven process management discipline while applying it simultaneously to achieve immediate benefits
Philadelphia, Pennsylvania (PRWEB) December 14, 2016
BPM-D's Managing Director and Co-CEO, Dr. Mathias Kirchmer announces BPM-Finalist nomination of a joint initiative with Alouette Cheese USA at WfMC global awards for business process management (BPM). These awards for excellence in BPM & workflow recognize organizations that have demonstrably excelled in implementing innovative business process solutions to meet strategic business objectives. The case for nomination is the "Rapid Improvement and BPM-Discipline" project at Alouette Cheese USA with the resulting efficiency and revenue impacts. Workflow Management Coalition (WfMC) and BPM.com jointly sponsor the annual awards. The program is managed by Future Strategies Inc.
Alouette established the discipline of Business Process Management to achieve simultaneously significant cost reductions, enable revenue growth and prepare for the continuous execution of changing business strategies. The BPM-D Rapid Improvement approach lead to first results after 6 weeks, including cost reductions of over 50% in selected processes. A new import business unit, established using the BPM-D Process-led ERP approach, enabled the sales of new products after less than 8 months. A simple but effective BPM-Discipline with an appropriate value-targeting, governance and process repository approach prepared for current and future strategy execution. All approaches are based on the patent-pending BPM-D Framework.
"This project has been another great example for the power of an integrated approach of building a value-driven process management discipline while applying it simultaneously to achieve immediate benefits", commented Dr. Mathias Kirchmer, Managing Director and Co-CEO of BPM-D.
About BPM-D
BPM-D® (http://www.bpm-d.com) partners with its clients to achieve productivity and performance through cross-functional business and information technology initiatives. It is the expert company to set up and apply a business process management discipline that provides significant value through systematic strategy execution in a digital world. The business was established based on the years of experience of its co-founders in delivering components of this vision: process management strategy; process and data governance; rapid process improvement; standardization, client-journey mapping, value-driven modeling & repositories; and change enablement to organizations, both large and small.
All BPM-D offerings are based on the patent pending BPM-D Framework that enables fast results at a low risk. The offerings support a focused and dynamic approach to process management and improvement. This is pragmatic and outcome-based, linking to business strategy and working to translate this into execution, faster and more reliably.
BPM-D also supports organizations to select and manage other consulting partners, especially for larger process-led transformations. We help define and balance the roles of the internal BPM-Discipline and the externally acquired services to ensure that programs deliver immediate improvement and a sustainable ability to realize value form change.
For small and medium sized software and consulting companies we leverage our years of industry experience to assist in defining and executing growth and internationalization plans. We provide support in all areas of the BPM-Discipline critical to the success of our clients.