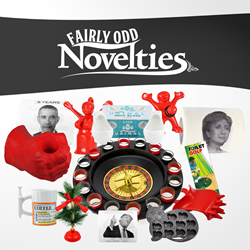 This is one of the best holiday gag gift lineups yet!
Charlotte, NC (PRWEB) December 09, 2016
Fairly Odd Novelties, a fine purveyor of novelties and gag gifts, has released their top ten white elephant gifts for this upcoming holiday season. "This is one of the best holiday gag gift lineups yet," says Eric Hebert CEO of Fairly Odd Treasures, LLC. The following list has been compiled by using data and analytics taken directly from Amazon.com which showcases some new offerings for this year and some perennial hits, all of which are sure to be the talk of the party.
Number ten:
Cat Kitten Shape Ice Cube Mold. This mold is great for any cat lover, not only does it make cat shaped ice cubes, but the mold itself if even a cat. Everyone seems to know someone who is fanatical about their favorite feline and this mold is a simply purrfect gift idea.
Number nine:
Giant foam fist right hand koozie. Available in both red and blue this giant monster hand koozie holds virtually any can or bottle, and it can even hold a pint glass. Foam construction helps insulate the beverage from the elements so not only does it look cool, it keeps the beverage cool as well.
Number eight:
Shot Glass Roulette Drinking Game. The classic casino game updated with an exciting drinking twist. Add a bottle of your favorite beverage to complete a memorable and fun gag gift that is sure to be the hit of the party.
Number seven:
Urinal Shot Glass Set. This unique take on the common shot glass is a fun way to really get that holiday party going. It's a set of two so it's perfect for a social setting plus the box says it all, "Your #1 Shot Glass." Also consider gifting with a yellow liquor for maximum hilarity!
Number six:
Potty Putter Toilet Golf. To keep the bathroom humor theme going next up is a perennial favorite. Every family or office has someone who is obsessed with golf and this makes the perfect gag gift for them. Complete with putter, balls, and putting surface this kit contains everything needed to get in some extra putting time, just make sure to avoid the water hazard.
Number five:
Prescription Syringe Coffee Mug. Up next is the perfect gift for the hopeless coffee addict. It's a bonafide prescription for coffee. Not only is this coffee mug funny, it also has a very unique design incorporating a syringe mold into the handle. Makes an even better gift for those in the medical field.
Number four:
Christmas Plunger. Is it Christmas tree, is it plunger? It's actually both and it's awesome, and that is why it makes the list.
Number three:
Lick'em Cat Scratcher. The second offering on the list for the avid cat lover is the Lick'em Cat Scratcher. Not only can it be used as a gag gift, it is also a completely functional product for that crazy cat friend. Made of durable food grade plastic this product is a safe way to build a uniquely special bond with any feline friend.
Number two:
Donald Trump Toilet Paper. Hot off this year's recent heated election, poke fun at either side with these gag worthy toilet paper offerings. Fairly Odd Novelties offerings include Donald Trump, Hillary Clinton, and even Barack Obama so no matter the political affiliations of the giftee all options are available to ensure a good laugh. Each roll has 240 sheets and smudge proof printing all the way through so it really can be a gift that keeps on giving.
Number one:
Sir Perky & Mrs Perky Bottle Stopper, Bottle Opener, and Corkscrew Gift Set. So popular George Takai tweeted about this cheeky fellow last year, he's back along with his beautiful wife for another year at the top of the hilarious gag gift list. Included in the set is two bottle stoppers, a bottle opener, and a corkscrew. All are made of durable rock hard plastic they are ready lighten the mood and work the holes of the nearest wine bottles handy. A favorite at any event and even more special when received as a gift.
This list is the top ten products that are sure to bring joy and delight to any Christmas party. Whether purchased intentionally for that special someone or to play the ever popular Dirty Santa or White Elephant game, these gag gifts are always a hit and the talk of the party!
About:
Fairly Odd Treasures, LLC. manufactures, imports, and exports goods throughout the world with a specialty in eCommerce distribution and fulfillment services. Your direct link to all major online marketplaces throughout the world. Just send us your product and we'll do the rest! Fairly Odd Treasures, LLC. is based out of Charlotte, NC, USA and has distribution facilities in Canada, the United Kingdom, and Australia. We utilize Chinese and American manufacturing facilities for plastic, aluminum, steel, corrugated packaging, minerals, and assembly services. We also strive to offer the best quality products at the absolute lowest prices available. Be sure to check us out online at: FairlyOddTreasures.com or our eCommerce partners such as Amazon, Walmart, Jet, or eBay.
Fairly Odd Treasures, LLC. represents the following brands: Dry-Packs, Oxy-Sorb, Plug-Dri, Aroma-Dri, Boomstick Gun Accessories, Fairly Odd Novelties, Lick'em, Race Day Electronics, Southern Homewares, Healthy Homewares, Camo-Up, Hoopla Toys, Mount-Up, Splash Kings, GoTow, Mailers4U, and Clinch-It. Interested in submitting your product ideas or brand for consideration? Contact: license@fairlyoddtreasures.com