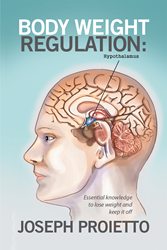 (PRWEB) December 06, 2016
Why does the prevalence of obesity continue to increase worldwide? Some would say lifestyle, however author Joseph Proietto, MB BS, PhD, FRACP, includes a fresh look into the cause of obesity in his new book "Body Weight Regulation."
"Body Weight Regulation," focuses on evidence-based strategy providing readers with the knowledge needed to lead a healthy life. Proietto said understanding the regulation of body weight and the causes of obesity can play a key role in someone's weight loss journey.
Proietto acknowledges that a difficult aspect of dieting is maintaining healthy food and lifestyle decisions, which is why he is determined to help readers understand the fundamentals of losing weight and keeping it off for good.
"Body Weight Regulation" serves three functions from which readers will benefit:

To inform readers about the biology of body weight regulation and the causes of obesity
To provide readers with a detailed strategy to lose weight and keep it off
To present practical advice for structuring meals during weight loss and maintenance phases
"Body Weight Regulation"
By: Joseph Proietto
ISBN: 978-1-51449-700-5 (sc); 978-1-51449-701-2 (hc); 978-1-51449-703-6 (electronic)
Available on: Amazon, Barnes & Noble and Xlibris
About the author
Professor Joseph Proietto is an Endocrinologist specializing in diabetes and obesity. He established the first obesity clinic in Victoria, Australia at the Royal Melbourne Hospital and is currently Head of the Weight Control Clinic at Austin Health. Professor Proietto is also the senior researcher in two landmark papers, published in the New England Journal of Medicine and The Lancet Diabetes Endocrinology.
###
Review Copies & Interview Requests:
LAVIDGE – Phoenix
Courtney Coombes
480-998-2600 x 612
Ccoombes(at)lavidge(dot)com
General Inquiries:
LAVIDGE – Phoenix
Bryan Beach
480-998-2600 x 510
bbeach(at)lavidge(dot)com