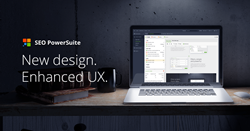 (PRWEB) December 06, 2016
Link-Assistant.Com, the technology company behind popular internet marketing tools, announced today the complete redesign and UI improvement for their set of professional SEO tools, SEO PowerSuite. In particular, SEO PowerSuite got full retina & ultra HD display support, a better way to manage workspaces, handy filters, and a more comprehensive Site Audit dashboard.
More information about the SEO PowerSuite's updated design and UI are available at the Link-Assistant.Com News section at the official website.
SEO PowerSuite's improved design and UX in a nutshell:
1. Full retina & ultra HD display support
From now on, SEO PowerSuite customers can enjoy perfect usability on Retina, 4K or 5K displays, or their laptops. Moreover, the tools' interface size can be manually set and scaled to one's liking.
2. A better way to manage workspaces
SEO PowerSuite provides loads of SEO data, and there have already been convenient ways to slice and dice it to one's preferences. With the today's update, users can create custom workspaces at a click of a button, keeping them clean and uncluttered.
3. Handy filters
Viewing backlinks with particular link value, keywords with certain tags and more has now become easier in SEO PowerSuite. Users can now extract specific SEO data quickly by adding filtering conditions.
4. A more comprehensive Site Audit dashboard
Site Audit module in WebSite Auditor now features all the crucial data on the same screen. Once users click on specific SEO factors they want to explore, they get the list of all the pages it affects and the associated SEO tips.
To evaluate the improved UI, users are invited to autoupdate their SEO PowerSuite applications. New users can download SEO PowerSuite for free at the official website http://www.link-assistant.com.
About Link-Assistant.Com and SEO PowerSuite
Link-Assistant.Com is an industry-leading software house, with a focus on developing tools for smarter Internet Marketing. The company's range of products includes SEO PowerSuite (end-to-end Internet Marketing Tools), BuzzBundle (social media management software), and the recently-launched Awario (an online app for monitoring social and web mentions). To stay on top of Link-Assistant.Com news, sign up to the blog updates and follow the company in social media: Facebook fb.me/LinkAssistant, Twitter @LinkAssistant and Google Plus gplus.to/LinkAssistant.