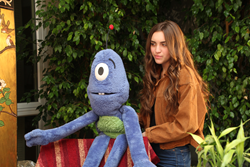 Blooob' was by far one of the funniest and most entertaining projects of my career. It was great working with such a talented and phenomenal cast, and director. I'd be thrilled to work with them again
Hollywood, CA (PRWEB) December 07, 2016
Actress Lexi Yob made her highly-anticipated debut on the whimsical web comedy "Blooob" when the episode was released on Nov. 4. Yob's appearance on the web series is one of several projects the actress has in the works, and marks her first-ever guest role in a web series.
Yob guest starred in the season finale of "Blooob," a fun and witty series about a one-eyed alien who visits earth and learns about human beings. The finale episode was titled "Not So Valentine's Day" and stars Zane Huett, Justin Galluccio, and Tyrone Tann. Other guest stars include Courtney Phillips, Christopher G. Contreras and Mann Alfonso.
"Blooob" web series is also produced by Stauros Entertainment, created by award winning filmmaker Tyrone Tann who has worked in the entertainment industry for over 25 years. Tann is an actor who has appeared in numerous films and television shows, such as Social Misfits, Starship Troopers, ER, China Beach, and Diagnosis Murder. Tann is also a producer, who first gained recognition in 1998 by breaking the Guinness World Records by producing the feature film Bug Night, which made movie history by being noted as having the longest film take. It was a movie that was filmed all in one continuous shot, all in one take, without any cuts, stops, or edits for 90 minutes.
The character "Blooob" was created by both Tyrone Tann and his show's co-star (Actor/Puppeteer) Justin Galluccio. The show is written and directed by Tann, and has gone on to receive two nominations by the EOTM Awards in 2013, for "Outstanding Web Series" and for "Best Director in a Web Series." "Blooob" has received a nomination by the Young Artist Awards in 2016 for "Outstanding Young Ensemble in WEB or VOD Series." The "Blooob" web series has also spun into a comic book for one of its Episodes, in collaboration with Illustrator Alan Carter of Carter Comics.
"Blooob' was by far one of the funniest and most entertaining projects of my career. It was great working with such a talented and phenomenal cast, and director. I'd be thrilled to work with them again," said Yob.
In addition to her appearance in "Blooob," some of Yob's previous work includes a voiceover for "A Kid's Place," a PSA commercial, as well as print magazine appearance. Yob has received various acting technique and improv training from schools throughout the country. She also takes acting lessons from Golden Globe winner and iconic actress Sally Kirkland. Yob also had a role in the romantic comedy "Hockey, Love and Superstitious Antics," which will be released in 2017, benefiting the National Foundation for Military Family Support. Yob expects to release more details about her next appearance soon.
"I personally feel Lexi is a very talented young actress with so much potential in this business. She was such an extreme pleasure and joy to work with. She was very professional, and very prepared in her craft. She was very on point, and was able to pick up quick and take direction well. I'm anxious to see where she rises from here," said Tann.
To watch the web series "Blooob," visit http://www.blooob.com and follow the show at Facebook.com/BlooobWebSeries. For more information about Stauros Entertainment, visit http://www.StaurosEntertainment.TV. To watch more video content produced by Stauros Entertainment, you can also visit their Youtube Channel at; https://www.youtube.com/user/StaurosEntertainment
Lexi Yob can be followed at Facebook https://www.facebook.com/alexis.yob and Twitter @lexiyob7
For Media Inquiries and Interviews please contact YM & Associates PR | Marketing | Branding at YMoralesY(at)YM-PR(dot)com or call 949-244-9769.
Yvette Morales
YM & Associates
PR | Marketing | Branding
California | New York
Phone: 949.244.9769 | 310.499.0906 Fax
Email: YMoralesY(at)YM-PR(dot)com
@YMTheBevHillsPR
http://www.YM-PR.com