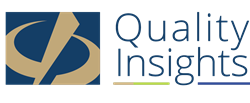 Charleston, WV (PRWEB) December 08, 2016
The West Virginia Medical Institute (WVMI) announced today that it will become Quality Insights beginning January 1, 2017. The name change aligns the entire company with its existing Quality Insights branded projects and emphasizes its commitment to measuring and improving health care quality.
"We are very proud of the achievements associated with the West Virginia Medical Institute name over the past 40 years," Sven T. Berg, MD, Chief Executive Officer, said. "Changing our corporate identity to Quality Insights reflects the expanded geographic footprint and the scope of the services resulting from those achievements."
WVMI is leading an array of state-based, regional and national quality improvement projects and has used the Quality Insights brand for many of them since 2000. It also has branded projects as the Mid-Atlantic Renal Coalition and PA REACH, both of which will transition to the Quality Insights name as well.
Dr. Berg noted that aside from getting used to a new name, those who have known the company as WVMI, MARC or PA REACH will experience no other changes. "The name change emphasizes the skills and resources available throughout our entire company," Berg said. "Customers and community partners can expect the same level of services and support and hopefully find new ways to collaborate with us."
About Quality Insights
Based in Charleston, West Virginia, with offices throughout the Mid-Atlantic region, Quality Insights is a national resource for health care quality improvement, specializing in quality measures development and maintenance, data collection and analysis, quality improvement, and physician practice transformation. Its 300+ employees and contractors support quality initiatives for the Veterans Health Administration (VHA), Centers for Medicare & Medicaid Services (CMS), state governments, private payers and more. Learn about how Quality Insights is measuring quality and inspiring change at http://www.qualityinsights.org.