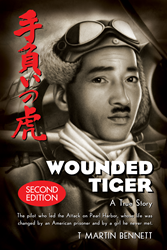 The story of Mitsuo Fuchida and his transformation is one of the most gripping stories of WWII and the Pacific War, and it's a story that few have heard about.
Dallas, Texas (PRWEB) December 06, 2016
Mitsuo Fuchida, the top Japanese pilot in the Imperial Japanese navy, was driven by a desire to gain respect for his nation. He would survive the Pearl Harbor attack and the rest of the war, but his life would be changed forever by an American bombardier who was a prisoner of Japan and by an American girl he never met.
Early on the morning of December 7, 1941, Fuchida peered out his airplane cockpit window at his target below. Pearl Harbor. The pilot had trained virtually his entire life for this moment, to lead the massive air attack on the United States.
History researcher and author, T. Martin Bennett (http://www.woundedtiger.com) spent three years researching this unbelievable true story before penning a screenplay (in development) and now the historical novel, Wounded Tiger, with today's nation-wide release of a second edition in commemoration of the 75th anniversary of the attack on Pearl Harbor. The new edition features more than 250 historical photos, maps and images, many never before seen or published, as well as 10,000 additional words of text.
"The story of Mitsuo Fuchida and his transformation is one of the most gripping stories of WWII and the Pacific War, and it's a story that few have heard about," said Donald M. Goldstein, Ph.D., and author of At Dawn We Slept: The Untold Story of Pearl Harbor and Miracle at Midway. "Martin Bennett's new book, Wounded Tiger, brings this epic drama to life with new details on how a Doolittle raider, Jacob DeShazer, and a missionary's daughter, Peggy Covell, helped effect this change. This thrilling story of war and forgiveness is a must for all."
Fuchida had been taught to hate and despise Americans, and he felt duty calling on him to bring honor to his country. The culmination of his encounter with an American bombardier from Oregon imprisoned by Japan and his interaction with an American family living in Japan changed his view of America, led him toward Christian faith, and ultimately brought him to the Unites States. A remarkable story!
"In the same way that Fuchida found himself a wounded tiger, all of us are like the majestic tiger," Bennett says. "We have the potential for great beauty and power, yet we find the wounds we've received from others or by our own choices hold us back from reaching who we could be."
Bennett presents an inspirational story of hope, perseverance, encouragement and love against the historic backdrop of World War II.
"The author brilliantly developed three separate storylines that ultimately intersect and deliver an unimaginable perspective of one of the most storied characters of World War II's Pacific theater," says Brown Books publisher Milli Brown. "Wounded Tiger is just the sort of historic non-fiction story Brown Books Publishing Group is eager to deliver to readers."
For more information, please go to http://www.woundedtiger.com.
Media Contact: Brian Briscoe, brian(dot)briscoe(at)theagencyatbb(dot)com, 972.248.9500.
About Brown Books Publishing Group (BBPG)
Founded in 1994 as an Entrepreneurial Publisher for Entrepreneurial Authors®, Brown Books Publishing Group was established to fill a need in the publishing world by allowing authors to have a voice in the publishing process while retaining the rights to their intellectual property. Applying this innovative Relationship Publishing™ model, Brown Books has cultivated a prestigious stable of authors, from New York Times bestsellers to Pulitzer Prize winners and more. Boasting hundreds of high-quality books across genres, Brown Books is a fiercely independent publisher that encourages author empowerment. In 1994, Brown Books ushered in A New Era in Publishing™, and more than two decades later, continues to be a successful innovative leader in the publishing industry. For more information, please visit http://www.BrownBooks.com.
About The Agency at Brown Books (ABB)
As a subsidiary of Brown Books Publishing Group, The Agency at Brown Books is backed by more than 20 years of publishing excellence, leveraged in the first full-service public relations, marketing, branding and distribution provider within a publishing house. The Agency provides high-level public relations, marketing and distribution services for not only Brown Books authors, but also non-affiliated authors, all within the same house. For more information, please visit http://www.TheAgencyatBB.com.