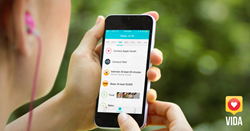 San Francisco, California (PRWEB) December 08, 2016
Vida Health, the digital health platform that pairs individuals with expert health coaches, has raised an $18M Series B led by Canvas Ventures. Other investors include Nokia Growth Partners (NGP) and returning investor Aspect Ventures. Vida will use the capital to scale its mobile platform to serve more consumers who are managing chronic conditions or simply want to improve their health. Canvas Ventures' Partner Rebecca Lynn will join Vida's Board of Directors.  
"We are delighted to have Canvas Ventures and NGP join us to help more people benefit from one-to-one health coaching and personalized, continuous care," said Vida Co-founder and CEO Stephanie Tilenius. "Since launching two years ago, we have seen men and women use the Vida platform to dramatically improve their health and even reverse chronic conditions like diabetes and hypertension. For many, it's transformed their lives. The potential to prevent, manage and reverse chronic health conditions that affect half of all Americans, and reduce our nation's healthcare burden, is huge."
  
The rise of chronic conditions in America, and how to address this growing healthcare crisis, is a much discussed topic on Capitol Hill and in the offices of employers, insurers and physicians. Almost 3 in 4 people in the U.S. are overweight; 86 million have prediabetes and 70 million have hypertension, both of which lead to chronic diseases if not managed. The economic cost weighs heavily on families, employers, and the U.S. economy, which is on track to spend 20% of GDP on healthcare by 2025.
"We're proud to back this team who is addressing both an enormous market and a dire need. The market for chronic disease care in the United States is $2.5 trillion according to the CDC. Vida currently treats more than 20 chronic conditions including hypertension, obesity, and diabetes. In addition, they provide wellness coaching to promote healthy living and preempt serious health issues," said Rebecca Lynn, General Partner, Canvas Ventures.
Lynn added: "We were also drawn to their approach. Vida couples an elegant and intuitive mobile technology with a network of highly-educated and experienced health coaches. Vida users are matched with coaches who may include nurses, therapists, nutritionists, personal trainers, and mentors. Their user engagement rates are the highest I've seen in the category."
Vida pairs individuals with a human health coach who is an expert in behavior change and knowledgeable in the area of need, whether it's nutrition, weight loss, fitness, diabetes, stress management or other conditions. Individuals can talk to their coach in real-time using text, voice or video; access evidenced-based clinical programs such as weight loss, diabetes prevention, hypertension, and exercise programs; connect to a community of support, which can include coaches, family members, friends, other people with similar conditions, and doctors. Vida also connects to over 100 apps and devices, pulling in personal data from a variety of sources, including lab and claims data, to create a personalized experience.
Dr. Simrit Parmar of MD Anderson Cancer Center is using Vida as part of a clinical trial for cancer patients. "One of the challenges of treating patients with chronic diseases has been providing ongoing support that extends beyond time spent with the physician. Patients need monitoring, guidance, accountability and social support in between doctor visits to help them manage their conditions and achieve lasting behavior change. There is evidence that Vida's approach combining mobile coaching with evidence-based clinical programs and device monitoring can benefit patients and drive positive health outcomes." 
Since launching in October 2014, Vida has coached tens of thousands of individuals, and has had over 4 million messages and over 7 million logged data points go through the platform. Vida reaches consumers directly, as well as through partnerships with Fortune 500 companies, major national payers, and large providers. Vida's partners include employers Steelcase, eBay, and FICO, insurer UnitedHealthcare, and medical centers Duke Medicine, Stanford Medicine, and many others. 
CONTACT: media(at)vida(dot)com
About Vida
Vida Health is a mobile platform for wellness and chronic care that helps people lose weight, lower stress, exercise more, eat better, and manage and reverse chronic conditions like pre-diabetes, diabetes, high blood pressure, high cholesterol, anxiety and depression. Vida pairs an individual 1:1 with a human health coach who guides him or her through a personalized plan, leveraging evidence-based methods and programs. Vida is unique in that it creates a truly personalized approach for each individual, and marries that with the power of data - integrating with 100+ apps and devices, biometrics, and claims data - which provides visibility into progress. Download Vida in the Apple App Store or Google Play Store. Vida delivers real health outcomes and is deployed at leading medical institutions such as Stanford, Duke, and MD Anderson. http://www.vida.com.
About Canvas Ventures
Named a "Top VC Firm to Watch" by the 2015 Forbes Midas List, Canvas is an early-stage venture capital firm based in Silicon Valley. Key investment areas include digital health, fintech, AI/machine learning, marketplaces, and "new enterprise." Canvas portfolio companies include: FutureAdvisor (acquired by BlackRock), CrowdFlower, Eden, Everwise, Folloze, HealthLoop, Totango, Transfix, Viewics, Vida Health, and Zola. The partners are also known for investments they made prior to Canvas, which include: Lending Club, MuleSoft, Houzz, Evernote, NexTag, Check, Doximity, Upwork, Zenefits, Dropcam, Kabbage, and more. Rebecca Lynn, Gary Little, Paul Hsiao, and Ben Narasin serve as the firm's investing partners. Visit us at http://www.canvas.vc.
About Nokia Growth Partners
NGP invests in entrepreneurs building intelligent solutions connecting everybody and everything. Providing deep industry expertise and an extensive network, NGP helps entrepreneurs accelerate company growth. With offices in the US, Europe, India and China, NGP extends the reach of companies making their products and services local everywhere. Uniquely structured as a private and independent venture firm sponsored only by Nokia, NGP offers the rigour of a financial investor while facilitating strategic engagement with Nokia. NGP's portfolio includes China's largest M&A exits of all time; Ganji and UCweb. Visit http://www.nokiagrowthpartners.com for more information.
About Aspect Ventures
Aspect Ventures partners with entrepreneurs at the ground floor to help build businesses and support them through the entire arc of their growth. We invest in companies that are leveraging data analytics and embracing interconnectivity to create new digital approaches to Marketplaces, Work, Security and Health IT. We founded Aspect to combine the best of what we've learned – across 100+ Seed and Series A investments – with a fresh perspective to do things better. We work together with entrepreneurs as their active advisors, board members and partners to help them grow their companies from inception to standalone, sustainable businesses. For more information, please visit http://www.aspectventures.com. Follow Aspect Ventures @AspectVC.