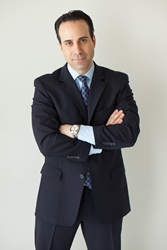 Big and bold is no longer better, particularly when it comes to modern breast augmentations
Beverly Hills, CA (PRWEB) December 07, 2016
Dr. Raffi Hovsepian, an award-winning aesthetic, reconstructive, and plastic surgeon in Beverly Hills, California, is proving the age-old saying "less is more," as he leads a new generation of breast augmentations. Catering to a millennial clientele, the triple board certified surgeon has mastered the understated breast implant, which focuses less on size, and more on proportion and symmetry.
"Big and bold is no longer better, particularly when it comes to modern breast augmentations," said Dr. Hovsepian. "For a long time, breast implants were all about size and attention. However, thanks to the millennial generation, the idea of quality over quantity is resonating strongly. Overly large and obviously fake breasts were a trend, and trends come and go. What we are doing now is timeless. Symmetry, proportion, and perk never go out of style."
Dr. Hovsepian's breast augmentations are grounded in small but significant tweaks that focus on enhancing the patient's inherent beauty. Again, minute details play a key role, as he considers patients' full body measurements, their lifestyle choices, as well as their unique ideals and concerns. From consultation to postoperative care, every aspect of the patient's treatment plan is completely customized.
"Nowadays, we are seeing beauty icons like Kendall Jenner and Gigi Hadid, who completely own their smaller breast sizes. That same confidence and individuality is precisely what is being reflected in plastic surgery today," said Dr. Hovsepian. "Gone are the days of dramatic makeovers. What we are doing today is all about fine tuning patients' natural beauty and giving them a classic confidence that will last a lifetime."
For more information or to schedule an appointment with Dr. Hovsepian, please visit: http://www.RHMD.com.
###
About Dr. Hovsepian
One of the most skilled aesthetic, plastic, and reconstructive surgeons in Southern California, Dr. Raffi Hovsepian is both triple board certified and among the select to have been indoctrinated into the American Board of Medical Specialties. Having studied under several of the world's leading pioneers in the field, he is now regarded as a super specialist in the entire spectrum of aesthetic surgeries for the nose, face, breasts, and body. His highly customized treatment plans and transparent approach to patient care deliver consistently authentic aesthetic results, garnering him numerous awards and recognitions, including "America's Top Plastic Surgeon." As an internationally recognized leader in his industry, Dr. Hovsepian regularly performs educational surgeries and is often called upon by various television programs and publications for his expert advice. He has been featured on The Dr. Oz Show, Entertainment Tonight, Fox News, and more.