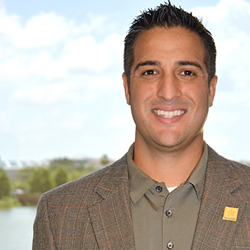 Brandon Moxam Promoted to U.S. Lawns Vice President
Orlando, FL (PRWEB) December 07, 2016
U.S. Lawns, a commercial landscape maintenance company, announced today that they have promoted Brandon Moxam to Vice President. Moxam has worked at the company since 2007, when he was first hired as the Franchise Recruiting Manager. He was later promoted to become the Director of Franchise Recruiting, and then the Director of Brand Development.
"Over the years, Brandon has demonstrated his expertise in strategic planning, franchise development, and promoting our brand," said Ken Hutcheson, President of U.S. Lawns. "Brandon helped lead us through our rebranding process and has always taken the initiative to develop new programs. He excels at forging new partnerships, looking for new ways to improve our franchisees' lives, and marketing our company to our various audiences. I'd like to congratulate Brandon on this promotion and thank him for his years of service to our company."
Brandon will continue to provide leadership and mentorship to the U.S. Lawns Team in the Home Office and in the field.
About U.S. Lawns
Founded in 1986, U.S. Lawns services commercial landscape customers through a network of over 250 locally owned franchise locations nationwide, providing customized landscape management and snow & ice management services to corporate campuses, retail centers, industrial parks, multi-family residential communities and other commercial customers. For more information, visit http://www.USLawns.com and http://www.USLawnsFranchise.com.