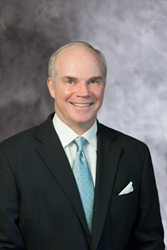 "Since joining the Board of Directors, Mr. Bichsel has played a key leadership role in the unprecedented successes our brand has achieved," said Best Western Hotels & Resorts President and CEO David Kong.
Phoenix, Arizona (PRWEB) December 08, 2016
Best Western® Hotels & Resorts announced that its Board of Directors has elected Terry Bichsel as Board Chairman for 2017. Bichsel brings more than 40 years of experience in the hospitality industry, having held executive management positions at several notable companies. His background and expertise will be instrumental in guiding the brand as Best Western builds off of recent accomplishments including record-setting RevPAR growth, the creation of a new and innovative white label brand, and the launch of a new digital platform.
"Since joining the Board of Directors, Mr. Bichsel has played a key leadership role in the unprecedented successes our brand has achieved," said Best Western Hotels & Resorts President and CEO David Kong. "With his strategic and thoughtful approach to our industry and company, I am confident that 2017 will be another groundbreaking year for our timeless brand."
Bichsel was elected to the Best Western Hotels & Resorts Board of Directors in 2014 to represent the interest of Best Western hotels owners in seven western states including Alaska, Washington, Oregon, Idaho, Montana, North Dakota and South Dakota, and Canada's western provinces. Bichsel previously served as the Secretary-Treasurer in 2015 and Vice-Chairman in 2016.
"I'm truly honored to have the opportunity to serve as Chairman of the Board for this industry-leading brand," said Board Chairman for Best Western Hotels & Resorts Terry Bichsel. "In the year ahead, we will build on our brand's exceptional momentum which has positioned Best Western as an innovative company exceeding the expectations of both today and tomorrow's travelers around the world."
Bichsel, a certified hotel administrator, started his hospitality career at an early age and became a general manager at 22 years old. He has worked throughout the United States serving as general manager of several hotels and regional vice president for multiple branded hotels. He has held senior-level executive management positions for industry leaders including John Q. Hammons Hotels, Inc. (Springfield, Missouri), the Parks & Resorts Division for ARAMARK Corporation (Philadelphia, Pennsylvania), and all tours and land-based operations for Holland America Cruise Line (Seattle, Washington). Bichsel launched his own company in 2002.
About Best Western Hotels & Resorts:
Best Western® Hotels & Resorts headquartered in Phoenix, Arizona, is a privately held hotel brand with a global network of 4,200* hotels in more than 100* countries and territories worldwide. Best Western offers seven hotel brands to suit the needs of developers and guests in every market: Best Western®, Best Western Plus®, Best Western Premier®, Executive Residency by Best Western℠, Vīb®, BW Premier Collection® and GLōSM. Now celebrating more than 70 years of hospitality, Best Western provides its hoteliers with global operational, sales and marketing support, and award-winning online and mobile booking capabilities. Best Western continues to set industry records regarding awards and accolades, including nearly sixty percent of the brand's North American hotels earning a TripAdvisor Certificate of Excellence award in 2016, Business Travel News ranking Best Western Plus and Best Western in the top three upper-mid-price and mid-price hotel brands for three years in a row, and Best Western receiving five consecutive Dynatrace Best of the Web gold awards for best hotel website. Best Western has also won eight AAA/CAA Lodging Partner of the Year awards, recognizing the brand's commitment to providing exceptional service and great value to AAA's 56 million members in the U.S. and Canada. Nearly 30 million travelers are members of the brand's award-winning loyalty program Best Western Rewards®, one of the few programs in which members earn points that never expire and can be redeemed at any Best Western hotel worldwide. Best Western's partnerships with AAA/CAA and Harley-Davidson® provide travelers with exciting ways to interact with the brand. Through its partnership with Google Street View, Best Western is the first major company of its size and scale to launch a virtual reality experience for customers, setting a new industry standard and reinventing how guests view hotels.

Numbers are approximate, may fluctuate, and include hotels currently in the development pipeline.
# # #