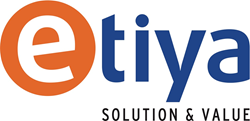 Singapore (PRWEB UK) 7 December 2016
Etiya, the leading independent software vendor providing telco CRM, catalog-driven BSS/OSS, social CRM and big data analytics, announced the launch of a customer service management and application called Serdoo that uses artificial intelligence (AI) to automate, understand and analyse information from any interaction - such as via text and social media - with a telco's customers. In combination with Etiya's Sememto – Social CRM, Serdoo brings together AI-based customer and social media analytics.
Serdoo is a software-as-a-service (SaaS)-based application that is powered by natural language processing (NLP) and machine learning (ML) technologies. The application can be integrated with any digital channel and interprets and deciphers mail, webchats, SMS, and social media postings. The system is making its debut at TM Forum Live! Asia in Singapore and is the product of 12 months' R&D at Etiya's Silicon Valley location.
A number of communication service providers have already trialed Serdoo, with some initial reports showing a reduction in response times by as much as 50%. The deployment of intelligent automation enables telcos to provide a consistently high standard of customer experience, which in turn encourages customer loyalty, drives new monetization opportunities, and reduces customer churn. The application uses both NLP and sentiment analysis algorithms to produce predictive and prescriptive automated responses.
Commenting on the launch of Serdoo, Mark Mortensen, principal analyst at Analysys Mason, said: "Communication service providers are constantly seeking ways to improve the customer experience and reduce churn. The use of artificial intelligence to automate the analysis of all types of customer interactions, including via social media platforms, is a smart way to cut response times and enhance customer relationship management."
Chun-Ling Woon, international CEO at Etiya, is scheduled to speak on the subject of BSS/OSS innovation during a session titled Social media and customer analytics – case studies and B/OSS innovations at TM Forum Live! Asia, which runs from 6th to 8th December 2016.
About Etiya
Etiya is the leading independent software vendor providing comprehensive telco CRM, catalog-driven BSS/OSS, social CRM, and big data analytics to communication and digital service providers (CSPs and DSPs). With its award-winning innovative products, rapid deployments, and end-to-end implementation capabilities, Etiya provides the most complete offer in the market. Etiya is a nominee for TM Forum's "Outstanding Contribution to Enabling Improved Business Agility Award 2016" and winner of the "Excellence Award for Customer Centricity 2015". For more information, please visit: http://www.etiya.com