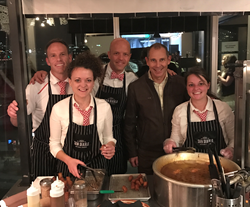 The Churros4Change event was a great example of all that makes this an engaged and invested community.
Salt Lake City, UT (PRWEB) December 08, 2016
Salt Lake City-based San Diablo Artisan Churros held a fundraising party on Tuesday night to raise money and awareness for local charities as a part of the #GivingTuesday social media trend.
The Churros4Change Holiday Giving Fiesta was held Tuesday night in the Rain Agency's office space in the new UCCU building in Lehi. The event showcased several local charities including Operation Underground Railroad, The Tyler Robinson Foundation, CHOICE and Singular Humanitarian. Guests were invited to donate to the causes and were incentivized to interact with the charities on social media via a bingo-like game. The event saw 250 guests in attendance and was able to raise $8,000 in donations to the respective charities.
There were several local food vendors that donated food to the event. San Diablo Artisan Churros offered samples of their churros throughout the night, and tacos were provided by Oteo Restaurant and Blue Poblano. If tacos and churros weren't enough, Rockwell Ice Cream was in attendance handing out cups of their artisanal ice cream.
The evening was hosted by Will Rubio, award-winning actor and current host of BYU TVs Random Acts. Live music was performed by "American Idol" contestant Bri Ray, renowned singer/songwriter John Allred, and Latin musicians Lukas and Marcos Sanchez. The event also featured a silent auction offering up exclusive items and one-of-a-kind experiences.
To cap the night off, guests were invited to stay after hours to attend a dance party hosted by San Diablo Churros and The Tribe.
Also in attendance to show his support of local businesses and nonprofits was Provo Mayor John Curtis.
"The Churros4Change event was a great example of all that makes this an engaged and invested community," said Mayor Curtis. "It was a powerful model of people coming together to make important things happen around the world."
About San Diablo Artisan Churros
San Diablo artisan filled churros are perfect for special events, parties and celebrations. We handcraft our churros to golden crispy perfection, coat them with sugar and freshly ground cinnamon and then fill them with your choice of sweet decadence. Located in the Black Sheep Restaurant at Epic Brewing in Salt Lake City, San Diablo Artisan Churros also caters — perfect for any size celebration with options for everyone — from mini churro tastings to unlimited full-sized churro parties. For more information, visit http://www.sandiablochurros.com/.