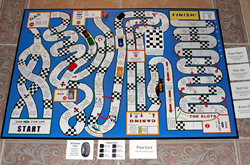 "In the right hands, this game is gonna kill it – home run – smash hit."
Sacramento, California (PRWEB) December 08, 2016
True story: In 2015, a photo of a potato was purchased by an English businessman for more than $1 million.
You can see the photo here: rallysportgame.com
Upon reading this fact, entrepreneur J. Paul Bruton of Sacramento, Calif., had an epiphany. Snapping a photo of a potato takes a few seconds. Creating a market-ready, play-tested, people-pleasing, well-reviewed board game took Bruton approximately six years. But does that make it worth $1 million?
Bruton said he "knows" that someone with marketing skills or connections will make tens-of-millions or more with his game. "In the right hands, this game is gonna kill it – home run – smash hit," said Bruton. "It's going to make its owner many, many millions of dollars, year after year," he said. "I believe it so deeply that I am practically making it risk-free to purchase."
In an interesting sales twist, Bruton said he is so confident in his game RallySport, he is willing to make the buyer what he called, "A secured deal of a lifetime." Bruton said he will offer a contract that places $900,000 of the buyer's $1 million in escrow, to be returned to the buyer should they fail to gross $10 million in game sales.
There are a few minor conditions to be worked out, such as monitoring sales, but still – Bruton's offer is intriguing and may indeed prove a more lucrative investment than a potato.
When asked if he believed someone would be willing to pay $1 million for a board game, Bruton did not hesitate. "Offered like this? Absolutely. Especially if they play the game and talk it over with me," he said.
"This game is going to make someone very rich. And if they're already rich, they're going to make a ton more money," said Bruton. "This is the ultimate Christmas gift."
For more information about Bruton's million-dollar game, check out rallysportgame.com