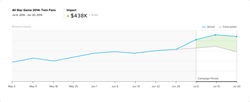 San Francisco (PRWEB) December 07, 2016
Quantifind today announced the release of SIGNUM Impact, an application that measures the financial impact of brand campaigns and sponsorships on demand. Powered by cutting-edge data science, SIGNUM Impact enables marketers to learn what's working, what's not, with whom and why in real-time to optimize effectiveness. Despite the marketing industry's recent focus on measurement and ROI, very few solutions have focused specifically on the revenue impact of brand campaigns and sponsorships—until now.
Several clients have already benefitted from this new application. For example, SIGNUM Impact has helped a major soft drink brand assess the ROI of their campaign on a TV show in real-time to make in-flight adjustments. The application showed a $700,000 lift in sales for the first six weeks of the campaign, and, based on that data, Quantifind was able to recommend that the client double down for the rest of the show's season to continue driving sales.
With global sponsorship spending projected to have grown 5% in 2016 to $60.2 billion, according to sponsorship specialist IEG, it's critical to understand the return a campaign is driving. What's more, according to a recent Gartner survey, marketing budgets are increasing overall, and that increase is being driven by CMOs who are able to articulate their financial impact. In fact, according to Gartner, the marketing budgets of CMOs who run or share a P&L and are held accountable for revenue targets are about 20% higher than those who don't.
"Marketers already know that the days of guessing at ROI and marketing in the rear-view mirror are over. Measuring the impact of your brand campaign or sponsorship after the fact is like putting lipstick on the wrong end of the pig," said Joshua Reynolds, head of marketing and client consulting at Quantifind. "SIGNUM Impact offers an intuitive, on-demand view of brand campaign and sponsorship effectiveness in terms CEOs and CFOs understand—revenues. What's more, SIGNUM Impact allows marketers to course-correct campaigns and sponsorships on the fly and generate the highest possible ROI."
Global brands use SIGNUM Impact through the campaign life cycle for planning, execution, evaluation and negotiation including:

For brand campaigns - the application discovers which audiences have a strong affinity for a brand, where the brand has room to grow, what messages are most effective and how the campaign performed in terms of dollar impact.
For sponsorships - marketers get on-demand insight into which sponsorships have the greatest resonance with target audiences, compare sponsorship effectiveness on the fly to optimize spend, quantify the incremental dollar impact, and have ROI data at their fingertips to negotiate with rights holders.
SIGNUM Impact is available now. For a product demo or more information, please visit: http://blog.quantifind.com/introducing-signum-impact.
About Quantifind
Quantifind is a data science company that eliminates brands' blind spots as to what is and isn't driving business performance. The company productizes data science to screen an infinite universe of data, filters out the noise that doesn't drive revenue, and finds the hidden signals that do—in real time. Its flagship product suite, SIGNUM, offers an intuitive, on-demand explanatory analytics platform that anybody can use to discover the biggest opportunities for growth. Founded by two physicists from Stanford University, Quantifind serves some of the world's most well-known brands, such as Heineken, Pepsi, Taco Bell and Corner Bakery. The company works with clients across multiple industries, including automotive, consumer packaged goods (CPG), financial services, movies and television, pharmaceuticals, restaurants, and telecommunications. Headquartered in Menlo Park, CA, the company's investors include AME Cloud Ventures, Andreessen Horowitz, Cathay Innovation, Comcast Ventures, Iris Capital, Redpoint Ventures and USVP. For more information, please visit http://quantifind.com.
PRESS CONTACT
Blanc & Otus
Virginia Stratford, 415-856-5120
quantifindpr(at)blancandotus(dot)com