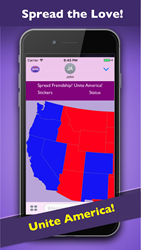 Not Blue States, Not Red States, Let's be the United States!
El Dorado Hills, California (PRWEB) December 07, 2016
Infosil recently released iMessage App Extension named IMWithYou™ to its popular Polytics™ App. Polytics was featured as "New Apps We Love" by Apple on the App Store. IMWithYou iMessage App is released with a goal to bring the electorate in the United States together after a divisive election cycle. IMWithYou allows users to send each other private messages using thoughtful, concise and meaningful friendship stickers.
IMWithYou iMessage App starts with a map of the United States in Red and Blue colors depending on Republican or Democratic vote. The goal of the app is to make all states Purple indicating the unity in diversity within the United States. Each state changes its color when sufficient number of users from the state send out the IMWithYou friendship messages. Polytics developers are targeting to make the United States purple prior to the President-Elect Trump taking office.
Polytics is a unique and revolutionary Chatcast platform. Polytics is the first mobile app of its kind that enables open conversations on political topics between users world wide.
Polytics uses a revolutionary approach to Instant Messaging, Chatting and Tweeting. By combining aspects of all three and including trending insights, Polytics allows users to to connect with friends and have public conversations, "panel discussions" or solo Chatlogs™ about political or other issues affecting them.
"To be highlighted by Apple is a big honor. Apple only selects a few Apps to feature each week out of thousands of new submissions," said an Infosil spokesperson. Polytics is already seeing a sharp increase in interest from this shout out. "We have now hosted live Chatcasts for the last 3 Presidential and Vice Presidential debates for 2016 U.S. elections and are thrilled to see the App featured by Apple."
Whether users are Democrat, Republican, Libertarian or Independent, they can share their views on a "Pro-Truth" platform, where users become more informed and involved citizens. "It is crucial that there are platforms that allow people to discuss their educated differences in politics that can involve discussion without attacking one another," said a recent user on the Polytics platform.
While most of the world is captivated by the U.S. Presidential elections, Polytics also offers a variety of other discussion topics, which will bring its users closer to each other, helping them discover what unites them rather than what drives them apart, as is often portrayed on political news. From activities in their communities or local governments, to everyday school and college concerns or national debates, Polytics gives everyone a means to express their opinions in a way not possible in today's most popular platforms or applications. Its unique real-time messaging engages users in global conversations that are open to the public to view, follow and respond while keeping the conversation streams safe from internet trolls trying to hijack or interrupt, leaving the discussion intact.
Polytics puts the power of idea sharing and discussion in the palm of everyone's hand - not just the media, special interests or celebrities – can hold live town hall meetings using a mobile phone or tablet, anytime, anywhere, and open to the world. All without character length restrictions.
Currently, the Polytics app works on all IOS devices - iPhone, iPad, and iTouch. The app is free and can be downloaded from the Apple App Store.
Polytics is available for download on the AppStore at the link below.
https://itunes.apple.com/app/apple-store/id1082223550?pt=448992&ct=LR&mt=8
Polytics is developed by Infosil Inc. a mobile applications company with many successful IOS apps. For more information please visit: http://www.infosil.com and http://www.polytics.io.
Contact: press(at)polytics(dot)io