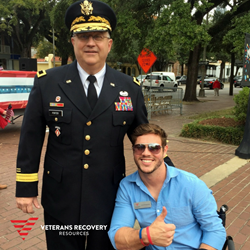 "Veteran suicide has got to stop," explained Chris Montgomery. "I have joined Veterans Recovery Resources because I want to do anything that I can to help prevent further tragedies from happening to guys like me who have served our country."
Mobile, Alabama (PRWEB) December 13, 2016
We are pleased to announce that Chris Montgomery, a local business owner, triathlete and veteran joined the Advisory Board of Veterans Recovery Resources on the 75th anniversary of Pearl Harbor. Veterans Recovery Resources is a first-of-its-kind public charity designed for veterans, by veterans, and intended to innovate the way we treat veteran addiction recovery issues, regardless of a veteran's ability to pay.
December 7 is a sacred holiday for Chris in reverence to the greatest generation. His grandfather served as a Marine and stormed the beaches at Guadalcanal and Iwo Jima. But December 7 is also a major milestone in his own life that Chris calls "Alive Day." Chris is a retired Corporal in the U.S. Marines with almost six years of service, including three combat tours in Afghanistan. During his last tour, Chris was almost killed by an IED while serving with the 3/5 Dark Horse Marine Battalion resulting in the loss of both legs, severe damage to one arm and injuries to his abdomen, sight and hearing. After his unplanned return home from a job he loved and recovery from his extensive injuries, Chris became an IronMan triathlete, CrossFit enthusiast and successful business owner.
The journey Chris has traveled is inspirational to many, but it is not without its real struggles. The worst has been losing fellow veteran friends. Four members in the Marine Company in which Chris served have committed suicide, leaving a void that cannot be filled.
"Veteran suicide has got to stop," explained Chris Montgomery. "I have joined Veterans Recovery Resources because I want to do anything that I can to help prevent further tragedies from happening to guys like me who have served our country."
Some estimated 5-million veterans are living on the Gulf Coast, the second highest in the U.S. One veteran in four suffers from severe mental health issues, often turning to drugs, alcohol, and even suicide to end their pain. According to the U.S. Census Bureau, approximately 414,079 people live in Mobile County. Of those, 10 percent have served in the military, per SHARE Southwest Alabama suggesting that roughly 10,350 veterans with mental health issues need support in Mobile County alone. The goal of Veterans Recovery Resources is to create another place they can turn before it's too late.
"Veterans risk their lives to defend our freedom every day. Unfortunately, when they come home, their battle can be worse," said John F. Kilpatrick, Veterans Recovery Resources, Founder & Executive Director. "We are honored to have Chris on our team as a Veteran Advisor. I know his contributions will help our mission of removing the barriers to mental health care for all veterans."
Veterans Recovery Resources has launched its $1.5 million capital campaign geared towards individuals wishing to support the cause, as well as local community foundations and businesses.
In the meantime, Chris has a message for other veterans: "I'm here to tell you that there can be something more. You can have a life again. I'm living proof."
For more information about Veterans Recovery Resources, as well as fundraising opportunities, visit http://www.VetsRecover.org or call 866-648-7334.