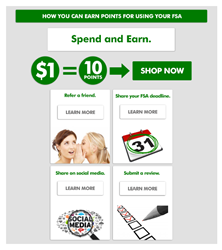 The loyalty program is an extension of our overall mission to make it easy for consumers to use, understand and manage their Flexible Spending Account (FSA). - Mike Shoiock, Director of Marketing at FSAstore.com
Sunnyvale, CA (PRWEB) December 08, 2016
ShopSocially assists FSAstore.com, the leading e-commerce site stocked exclusively for Flexible Spending Account (FSA)-eligible products and services, to deliver enhanced customer loyalty, increased referrals and heightened customer engagement through the use of its modern day loyalty program.
In the twelve months since the launch of the FSA Perks Program, there has been a consistent month-on-month increase in the users who are actively engaged with the program. ShopSocially noted that these customers have a 5.5% higher AOV and a 64% higher purchase frequency. Consequently, they spent 74% more than others. The rate of growth of these loyal customers has been 3x times the customer acquisition rate forFSAstore.com. This clearly indicates that existing customers are engaging with the program and spending more on FSAstore.com.
FSAstore.com is promoting the FSA Perks Program on its home page to encourage site visitors to actively engage with the loyalty program. This translates to giving customers loyalty points for multiple interactions on the website such as purchases, referring the brand to their friends, sharing via social media, posting reviews and submitting their FSA deadline. A personalized dashboard lets customers see which activities they have received rewards for and track their overall points. The reward points can then be redeemed in four simple steps for coupons and exclusive offers on the website.
"The loyalty program is an extension of our overall mission to make it easy for consumers to use, understand and manage their Flexible Spending Account (FSA)," stated Mike Shoiock, Director of Marketing at FSAstore.com. "We do this by encouraging customers, through rewards for multiple website interactions, to take a responsible, active role, when it comes to using their FSA. This means more engaged and loyal customers who are maximizing their FSA throughout the year."
The ShopSocially loyalty program offers a fully immersive referral and loyalty solution. Rewards are for purchases, as with many loyalty programs, but also for so much more: social sharing, review-writing, referrals and other customizable loyalty actions which can be offered in just a few clicks. The platform is user-friendly with easy integration to third party systems and a dashboard that embeds seamlessly into the client's website.
"FSAstore.com is reaping the benefits of having implemented a cutting-edge loyalty program that rewards its customers for desirable actions on its website as well as their purchases. As a result, the site is enjoying impressive results, with actively engaged customers spending more and shopping more frequently," commented Samir Palnitkar, President at ShopSocially. "We are happy to be associated with the success of FSAstore.com and hope to continue assisting them to convert their website visitors into loyal customers."
About FSAstore.com:
FSAstore.com was founded to make it simple and convenient to spend, manage, and use an FSA. FSAstore.com is the only e-commerce site stocked exclusively with FSA eligible products, eliminating any and all guesswork as to what is and is not FSA eligible. In addition to the 4,000 eligible products available, the site offers educational resources for FSA holders, including the most comprehensive Eligibility List in the industry and a Learning Center with answers to the most common FSA questions. FSAstore.com accepts all FSA and major credit cards, offers 24/7 customer service, two-day turnaround for all orders and free shipping on orders $50+ in the continental US.
About ShopSocially:
ShopSocially is a SaaS-based, social, referral and loyalty marketing platform that delivers up to 40% more revenue by enabling an increase in new customer acquisition, engagement, conversion rate and retention. More than 500 global brands are using ShopSocially to grow their business via proven strategies such as referral marketing, visual commerce, customer loyalty, social login, social gamification, customer Q&A and more.
ShopSocially platform offers a comprehensive suite of marketing solutions which eliminates the need to implement multiple, inconsistent solutions and delivers a measurable ROI. Our fully managed services option ensures no additional work for your marketing or IT team.
ShopSocially has won several awards and recognition's for its innovative technology. To learn more how ShopSocially can help grow your business, please contact us at (650) 701-7759 or at http://www.ShopSocially.com