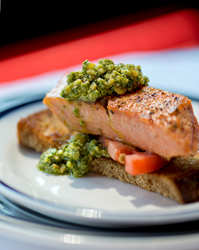 Our goal is to involve our guests in trying their hand at our recipes and to spark the same creativity and passion at home that we have for sustainable seafood.
(PRWEB) December 08, 2016
On December 12, 2016 at 11 am Duke will be in-studio on New Day NW on KING5 TV with Margaret Larson to demonstrate the ease of making Topless Wild Alaska Salmon Sliders. In his new cookbook Duke wrote: "We're always a little nervous when a party of two orders this—fights have broken out over the third slider. Don't worry; we keep a stocked first-aid kit (and extra sliders) at the ready. Just to be safe, you may want to double the recipe at home."
As a well-known, award-winning restaurateur in the Puget Sound area, Duke's Chowder House Owner Duke Moscrip, Executive Chef "Wild" Bill Ranniger and son and partner, John Moscrip are thrilled to share their coffee table worthy, hardbound, 384 page seafood cookbook that reveals secret recipes now available to home chefs who want to try their hand at cooking scrumptious sauces, savory seasonings, delectable dressings, bountiful butters and condiments which constitute the secrets to Duke's wild success, now spanning nearly four decades.
Duke, a self-described "seafood sleuth," insists on getting his salmon from the wild and not from farms. He also goes one step more by giving a portion of the sale of his new cookbook to Long Live the Kings, a non-profit involved in the restoration and preservation of salmon and Steelhead in the Salish Sea. "Our goal is to involve our guests in trying their hand at our recipes and to spark the same creativity and passion at home that we have for sustainable seafood," commented Duke.
"As Wild As It Gets" features a mix of favorite dishes co-created by Duke and Executive Chef, "Wild" Bill Ranniger –all secret recipes never revealed to the public before now. Moreover, the most unique and exciting aspect of the book are Duketales, featured stories providing readers with a glimpse of Duke's Alaskan adventures as well as stories of Duke's mischievous promotions over the last 40 years. This cookbook promises to be a rewarding addition to anyone's culinary literature.
Audience guests in attendance will be receiving a $25 Duke's gift card to visit any of Duke's six locations. To be a part of the studio audience guests can contact New Day for seats at newdaytickets(at)king5(dot)com. Maximum size of groups is 10-12 people.
In addition, Duke's Chowder House is conducting a "DIY" seafood recipe sweepstakes contest featuring secret recipes from, "As Wild As It Gets." Home chefs are encouraged to make several different recipes –with the chance to win a $50 Duke's gift card good at one of Duke's six locations and a grand prize of a signed cookbook and $100 Duke's gift card.
To enter, contestants recreate Duke's recipes at home, and then are required to post a picture of their culinary creation to Facebook, Twitter or Instagram with the hashtag #RECREATEDUKES for a chance to win. Ultimately, all winners will be entered into a random drawing and one Grand Prize Winner will be selected just in time for the holidays.
All in all, five recipes are to be revealed (one per week), for a total of five weekly winners–one of which will be awarded the Grand Prize during the contest finale. Duke designed the sweepstakes to provide foodies, home chefs and hobbyists alike with a fun opportunity to try Duke's renowned recipes.
Contestants are required to post a picture of their dish after recreating the recipe to one of the eligible social platforms by Thursday at noon each week to be considered. The next week's winner will be announced on 12/18, notified by email. Only posts that include the hashtag #RECREATEDUKES in conjunction with an image reflecting that week's recipe will be considered for entry.
Click here for more information on #RECREATEDUKES. For full contest rules click here.
For more information on Duke's Chowder House, visit http://www.dukeschowderhouse.com/.
For media inquiries, contact Tina Carey at askbettina(at)gmail(dot)com.
About Duke's Chowder House:
Duke's Chowder House is a family owned and operated enterprise with six different locations throughout the Puget Sound region. Renowned for its Award Winning Clam Chowder, Duke's menu is filled with delectable seafood dishes crafted by Duke and Duke's very own Executive Chef "Wild" Bill Ranniger–a proclaimed culinary genius in the region. Founder and Owner Duke Moscrip – together with his son and partner John Moscrip – continue their passionate journey to source all wild, natural, healthy and fresh tasting ingredients. Duke's food is free of hormones, antibiotics and harmful chemicals. Duke's is an upscale, casual Pacific NW seafood concept offering signature, flavorful, 100% sustainable wild seafood, Award Winning Chowder and grass fed burgers. Guests sum up their favorable assessment of what Duke's Chowder House has to offer with three words: "It's sooo good!" Duke's is honored to have received the highest seafood restaurant rating in the State of Washington by Fish2Fork, a leading evaluator of worldwide seafood restaurants, garnering a 4.5 out of 5 (no higher rating in the world). Duke's is equally honored to be among the first restaurants in Seattle to be recognized with a 100 percent volume compliance sustainable seafood rating from Smart Catch, a program designed to promote sustainability and raise consumer awareness regarding sustainable seafood options. Learn more at http://www.dukeschowderhouse.com/.