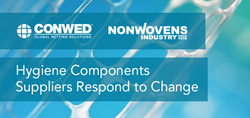 Minneapolis, Minnesota (PRWEB) December 07, 2016
Conwed, the leading plastic netting manufacturer in the world, was featured in the December 2016 issue of the Nonwovens Industry Magazine as part of the editorial piece: Hygiene components, suppliers respond to change. For more than 30 years, the Nonwovens Industry Magazine has tracked the growth of the nonwovens industry through years of market, technology, and product development evolution. The worldwide nonwovens business—at the roll goods level—totals more than $14 billion, according to industry estimates and Conwed netting is used to reinforce, laminate and stretch diverse substrates in hygiene, medical, apparel, cleaning and other disposable products.
This hygiene components editorial covers how the hygiene industry continues to evolve and how suppliers such as Conwed are concentrating efforts in the growing adult incontinence category. "Listening to users complain about briefs and underwear that work, but are not comfortable or discreet has pushed suppliers, manufacturers and OEMs to include comfort as an imperative variable into their product design efforts", said Ivan Soltero, senior strategic marketing manager at Conwed. "Our elastomeric netting can help address this concern".
Conwed manufactures Rebound elastomeric netting, the ultimate stretch engine for elastic nonwoven composites. Rebound functions as the stretchable component in waistbands and side panels used in disposable adult incontinence briefs and underwear and baby training pants. The latest development in elastomeric netting technology is Flat Rebound, a new configuration with flat joints that allows the creation of stretchable and smooth composites for superior comfort and feel. It addressed the demand for having lightweight and breathable composites with no joints to mimic a smooth apparel-type texture.
"In our nonwoven stretch laminates, the mesh configuration with multiple holes provides a highly breathable surface that improves air permeability, water vapor transmission and heat transfer performance of the final nonwoven composites which consequently impacts how comfortable the users feel", said Soltero.
To know more about Rebound elastomeric netting and its hygiene applications visit http://www.conwedplastics.com/hygiene
About CONWED
Conwed is the leading plastic netting manufacturer in the world. Conwed manufactures extruded, oriented, knitted and multilayer netting with unique customization capabilities. Headquartered in Minneapolis, Minnesota, Conwed has five manufacturing locations on two continents and a global distribution network.