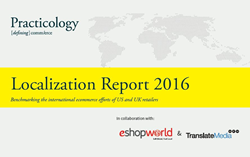 Many US retailers have invested in websites for international markets in the last five years, however we feel there are clear opportunities to provide a more localized customer experience.
New York (PRWEB) December 09, 2016
New research published by Practicology, eShopWorld and TranslateMedia, underscores the importance for US companies of localizing their websites for key international markets. Although progress is being made by companies, key areas such as localized payments options, merchandising and customer service options were often found to be poor.
The Localization Report 2016 looks at four markets for US retailers - the UK, Australia, Japan and Mexico and assesses their localization efforts in areas including: use of language across the site; merchandising and offers; mobile optimization; search engine optimization; social media; customer services; shipping and returns; pricing and payment. 25 sites were reviewed for each market, and a total of 51 US retailers and brands were included in the research.
US retailers were particularly strong at providing customer service support in local business hours, localizing pricing, and localizing their foreign language sites in the cases of Mexico and Japan. The same priority was not as evident in other English-language speaking countries, such as the UK and Australia however. Overall the findings again demonstrate the competitive advantage to be gained from intensive localization efforts.
Japanese websites of US retailers were by far the most localized, with evidence of the considerable investment by US brands in their Japanese service proposition. 96% have fully localized their product details, 80% have country-specific homepage merchandising, 64% have fully localized site navigation, 76% have country-specific offers and promotions, 88% have a Japanese customer service phone number and 96% offer returns by post to a Japanese address. US retailers offer Japanese products at a premium price, with 100% of retailers marking up prices for Japan's online shoppers, in comparison to their US prices.
Other key findings for US retailers selling online in the UK, Australia and Mexico include:
Localized product details and descriptions

52% of US retailers have not localized these fully for their UK website
In contrast, 96% of US retailers selling into Mexico have done so, resulting in fully localized content becoming an expectation of the average Mexican online shopper
Homepage language and Navigation

68% have completely localized their site navigation into UK and Australian English, however as mentioned, only half have extended this fully to include product and description and other content on their UK sites
80% have fully localized their UK and Australian homepage language, with Mexican websites again coming out on top with 96%
Customer support

52% of retailers have a dedicated UK customer service phone number, and 32% offer live chat support
48% list a dedicated Australian customer service number and 68% offer customer service in Australian working hours
88% of retailers have customer service in Mexican working hours, with 84% having a Mexican phone number
Blog

The localization of blogs was poor across markets with 60% of US retailers having no localized blog on their UK or Australian websites
84% had no blog localization on their Mexican sites
Offers and promotions

60% of retailers provide UK specific promotions on their websites, 72% in the case of Mexican sites
In contrast, only 36% of US retailers selling into Australia have country specific offers, with 56% only offering the same promotions as the US parent site.
Practicology Head of Internationalization Nicola Huet said of the report findings:
"We have seen US retailers invest in localizing their international websites in the last few years as a way of driving cross-border online sales growth. However, we feel that there are clear opportunities to go further, and provide a truly localized customer experience for their international customers in key markets."
eShopWorld CEO Tommy Kelly said:
"The research underscores the importance of a customer-centric, localized approach. Retailers, quite literally, have to speak the language of their customers, wherever they are in the world. From the research, we see that many US retailers had the same promotion in Australia as they did in the US, in spite of differing seasons. A fully localized proposition is the only way to drive customer satisfaction, conversion and profitability."
The full report can be downloaded at http://www.practicology.com/localization2016
ENDS
Further information please contact
Joanna Perry, Head of Marketing at Practicology:
T: +44 (0)20 7323 0539 | E: joanna(at)practicology.com
Jill Farrelly, Murray:
T: +353 1 498 0300 | E: jfarrelly(at)murrayconsultants.ie
About Practicology
Practicology is a strategic multichannel consultancy with offices in London, Sydney, Melbourne and Hong Kong, founded in 2009. We're different as our consultants have all worked within retail and consumer brands, and so truly understand our clients' challenges. We deliver a portfolio of strategic services, including helping clients to develop and grow their localized international ecommerce propositions. Our global client list includes AEO, Canon, Claire's, Nike, Rapha, Seafolly, Selfridges, Ted Baker, Reckitt Benckiser and Wiggle. http://www.practicology.com
About eShopWorld
eShopWorld is a leading provider of brand-centric eCommerce solutions that provide global reach for retailers, and a fully localized shopping journey for consumers. Its technology enables in-country pricing models, country specific checkouts, local payment options, and global infrastructure that supports a superior shipping and returns experience. Through a single point of integration, eShopWorld's proprietary platform offers scalable access to shoppers in over 200 countries, with a strategic focus on a superior shopping experience that maximizes sales conversion to deliver growth. http://www.eshopworld.com
About TranslateMedia
TranslateMedia is a global translations agency. We deliver premium-quality localized content that communicates your brand promise and provides ROI in your global marketing campaigns. We understand trends, influencers and the innovation that is required in a rapidly changing environment and help our clients navigate these paths in international markets. Our clients are global brands in retail covering a range of categories including fashion, beauty, apparel, footwear, accessories, travel, consumer goods and sports. http://www.translatemedia.com