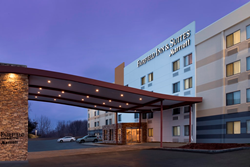 "The transformation allowed us to expand our room types to include suites, so that we may welcome more families and extended stay travelers to our hotel."
East Greenbush, New York (PRWEB) May 23, 2017
Fairfield Inn & Suites Albany East Greenbush, the Albany hotel owned and managed by Baywood Hotels, announces the completion of its full property renovation, with the addition of six suites. The addition of the suites allows the property to become a Fairfield Inn & Suites brand, from a standard Fairfield Inn.
Completed in November 2016, the 30-year-old hotel underwent a complete renovation to its 100 rooms, with a freshly-painted exterior, an innovative porte cochere and new parking lot lighting. In addition to public space improvements, the hotel also renovated its guest rooms with new TVs, bedding, furniture, carpet, tile and drapery. All rooms now feature upgraded amenities with new microwaves and mini-fridges. Guest bathrooms were also remodeled with new vanities, sinks, showers and bathtubs. The new upgrades add to the overall appeal of the room and help to enhance the guest experience.
Enter the hotel through brand new automatic doors, and be welcomed to a fresh lobby featuring modern furniture, a renovated ceiling, new front desk and an upgraded corner market. An expanded breakfast/dining area complements the stylish lobby that is completed by a decorative fireplace. The transformations continue with a new state-of-the-art fitness center, as well as a seasonal, outdoor pool, which is equipped with new poolside furniture. Hallways throughout the hotel have new wallpaper, in addition to new carpet and luminous lighting.
"This renovation allowed us the opportunity to convert a 30 year old building, into a Modern Essentials gem," said Michael Ryzner, General Manager. "The transformation allowed us to expand our room types to include suites, so that we may welcome more families and extended stay travelers to our hotel."
Fairfield Inn & Suites Albany East Greenbush also offers complimentary amenities, including high-speed internet, on-site parking and hot breakfast, which includes eggs, breakfast meats, cereal, yogurt and juices, among many other options. Complimentary coffee and tea are offered in the lobby 24 hours a day.
The East Greenbush hotel near Albany, located at 124 Troy Road East Greenbush, NY 12061, is near several local corporations such as Regeneron, NYISO, Pitney Bowes and Rensselaer Tech Park. Fairfield Inn & Suites Albany East Greenbush is conveniently located off of Route 90 and provides easy access downtown Albany, the Empire State Plaza, Times Union Center and Palace Theater.
###
About Fairfield Inn & Suites Albany East Greenbush
Fairfield Inn & Suites by Marriott is designed for today's traveler who is looking to be productive on the road, whether for business or leisure. In addition to complimentary Wi-Fi and breakfast, Fairfield Inn & Suites offers thoughtfully designed rooms and suites that provide separate living, working and sleeping areas. With more than 675 properties throughout the United States, Canada and Mexico, Fairfield Inn & Suites hotels participate in the award-winning Marriott Rewards® frequent travel program that allows members to earn hotel points or airline miles for every dollar spent during each stay. For more information or reservations, contact the Fairfield Inn & Suites Albany East Greenbush directly at (518) 477-7984, visit http://www.marriott.com/albeg or become a fan at https://www.facebook.com/FairfieldInnAlbanyEastGreenbush/.
About Baywood Hotels
Established in 1975, Baywood Hotels, Inc. is a fast-growing and privately-owned hospitality management company, operating $1 billion in assets and employing over 1,800 associates nationwide. The company is headquartered in Greenbelt, Maryland, and has regional offices in Aurora, CO; Herndon, VA; Miami; Pittsford, NY and San Antonio. In each of its regions, the private hotel ownership company is consistently recognized as an innovative leader in the hotel industry, focusing on product concept and development and the outstanding management of its assets. The focused vision, strong values and aggressive long-range strategy of Baywood Hotels has helped the company develop reputable and well-branded hotels in areas where Baywood has competitive expertise and partnerships. Baywood Hotels' portfolio includes well-known brands, such as Marriott, Hilton and InterContinental Hotels Group, as well as several independent brands. Contact us through Facebook or our website.