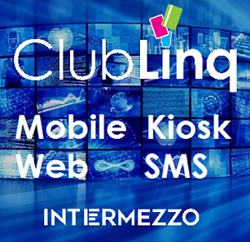 An affordable and flexible Loyalty Club solution to facilitate casino operator's entry into a new realm of marketing.
Las Vegas, Nevada (PRWEB) December 08, 2016
Intermezzo Inc and Blackwrist Interactive LLC have joined forces to offer the gaming industry it's most comprehensive patron marketing solution for brick & mortar casinos. Coupled with the very latest in native, mobile app development and internet standards for omnichannel engagement, the partnership introduces ClubLinq® Touch™ -- a kiosk-based marketing system providing casinos with a multitude of Player Interaction Management features and options.
Since 2012, Intermezzo's ClubLinq has set the standard for extending loyalty clubs and engaging casino patrons on mobile devices and the world wide web. Now, OnSite brings ClubLinq to your casino floor. A multitude of self-service and front-line service enhancements are now fully integrated via the award-winning ClubLinq API services. In addition to the core functionalities provided in guest kiosks, there are several innovative features including mobile device management of casino promotions now available through the ClubLinq API services.
"We are beyond excited about our new partnership with Blackwrist Interactive. Having worked with Robert Willis and his team previously on a flagship installation at the M Resort in Henderson, Nevada provides us with tremendous confidence. All ClubLinq Touch kiosk functions have been designed and built with and by casino developers making it a feature-rich, scalable solution that provides incredible value," said Jeff Baldi, President, and CEO of Intermezzo, Inc.
Blackwrist Interactive's President Robert Willis goes on to elaborate, "As opposed to comparable kiosk systems which start at the six-figure cost range, ClubLinq Touch is a premier marketing solution for small to mid-size casinos entry into a new realm of marketing without incurring the burdensome costs."
About Blackwrist Interactive, LLC
Blackwrist Interactive is a software development company that specializes in the casino and hospitality industries. Visit the company's website at http://www.blackwrist.com for additional information.
About Intermezzo, Inc.
Incorporated in Nevada, Intermezzo, Inc. develops clever apps & custom solutions for the casino industry. Utilizing the award-winning ClubLinq® platform, our solutions enable casinos to effectively engage their patrons through enterprise integration of Casino Accounting, POS, PMS, CRM and Casino Management Systems with Microsoft.Net Loyalty Portals, Native Mobile Apps and targeted, programmable SMS/Push. Intermezzo offers a full suite of professional and marketing services to support their software solutions.
For more information, visit ClubLinq.com or contact Dave Halabuk, Vice President and CMO at dave(at)intermezzo-inc(dot)com or 702.761.4639.