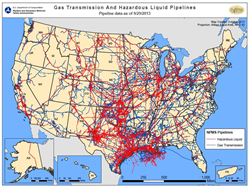 Texas has many pipelines. I will be looking into what pipelines are in our area.
Crandall, TX (PRWEB) December 09, 2016
Although school officials today are alert and proactive when assessing risks and hazards in and around their school campuses, pipelines can oftentimes be overlooked since they are out of sight. Until now, pipelines and other underground infrastructure have not been in the forefront of school emergency planning alongside other safety focuses where they belong.
In filling their mission of pipeline safety, the Danielle Dawn Smalley Foundation, a Texas-based nonprofit, reaches schools across the nation that are located nearby pipelines with safety and emergency planning education in partnership with pipeline operators.
This year marks the 20th anniversary of the pipeline incident that took the life of 17-year-old Danielle Dawn Smalley and her friend Jason Stone.
"Considering the vast amount of pipeline infrastructure and growing school populations in Texas, and an apparent lack of school pipeline safety awareness and resources, we identified an elevated need to reach ALL schools in Texas with pipeline safety. This new large scale effort is a milestone for our organization, for Texas, and for school safety" said the Foundation's Executive Director, Sheila Caguiat, MSW.
To fill this need, the Smalley Foundation is partnering with the Texas School Safety Center, at the Texas State University, to develop and provide pipeline safety and emergency planning resources and ongoing support to school officials of all kinds across the state. This includes in-person presentations at regional safety workshops and state conferences, online toolkits, educational videos and other resources freely and conveniently available to school officials.
Watch this video to learn more: https://youtu.be/4EkJpQl1-Pc
Key program messages include:
What pipeline markers look like and the information they provide
Common pipeline product characteristics
History of natural gas odorant (New London Texas school disaster)
Indications and hazards of a pipeline leak
How to properly report and respond to a pipeline leak
School specific pipeline emergency planning
Federal and state online pipeline mapping tools and resources
As pipeline safety reaches school officials, a culture of protecting underground infrastructure from damage expands, pipeline emergencies are prevented, and schools are empowered to identify, report, and safely respond to potential pipeline leaks, increasing safety in schools across the state of Texas.
"Texas has many pipelines. I will be looking into what pipelines are in our area."
-Texas School Official
"Good information that I have never thought about before"
-Texas School Based Law Enforcement Official
This first-of-its-kind effort brings pipeline safety to school officials in ways that are already being consumed for ongoing education. By designing online and in-person experiences focused around what school officials care about most, attitudes are formed and behaviors are influenced that carry into their everyday role of student safety.
Pipeline operators, utility companies and others with an interest in pipeline safety and damage prevention can learn more and join the Danielle Dawn Smalley Foundation in this commemorative effort:
Website: http://www.smalleyfnd.org/texasschools
Email: info(at)smalleyfnd(dot)org
To learn more about the Texas School Safety Center and to view online resources and a list of upcoming training events, go online to: http://www.txssc.txstate.edu