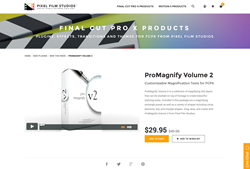 ProMagnify Volume 2 comes equipped with a variety of magnifying shapes such as circles, diamonds and stars which will create beautiful stylizing looks
Aliso Viejo, California (PRWEB) December 09, 2016
"ProMagnify Volume 2 comes equipped with a variety of magnifying shapes such as circles, diamonds and stars which will create beautiful stylizing looks," said Christina Austin - CEO of Pixel Film Studios.
To use ProMagnify Volume 2, place the magnify preset or a magnifying shape preset on top of footage in the FCPX timeline. Create beautiful looks by placing the magnification anywhere in the shot. Anything is possible with title effects from Pixel Film Studios.
This magnification plugin makes animating anything simple in Final Cut Pro X. First, choose scrub over a ProMagnify preset to preview the animation. Next, drag an animation above media in the FCPX timeline. Lastly, utilize on-screen controls to tweak the orientation of the media and make use of the controls in the inspector window to tweak the look of the animation.
Layers can be mixed and matched to create a variety of unique looks. Just drag and drop layers on top of one another to add multiple masks to a single shot. Move each layer around using the on-screen controls to create an unique layout.
Use the On-Screen Controls to adjust the position, rotation, width and height of the magnified section. Adjust the Magnification Amount slider to adjust how closely the magnification zooms in. Combine and contrast to customize and match the needs of any shot.
Established in 2006, Aliso Viejo, California-based Pixel Film Studios is an innovative developer of visual effects tools for the post-production and broadcast community. Their products are integrated with popular non-linear editing and compositing products from Apple FCPX. Apple, the Apple logo, Mac OS X, and Macintosh are registered trademarks of Apple Inc. in the U.S. and/or other countries. All other trademarks and trade names are the property of their respective owners.