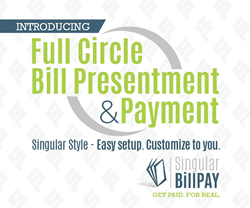 Saint Augustine, FL (PRWEB) December 20, 2016
Singular Payments, LLC., a true custom flat rate credit card processor for SMBs within select verticals such as healthcare and utilities, is excited to announce it will formally launch its new electronic bill presentment and payment platform in an effort to streamline and simplify the costly and labor intensive process of invoicing and collections. To date, billing and collections software partnered with the ability to seamlessly accept credit card and electronic check (ACH) payments for one low flat rate is something that has not been done well. That is one of the unique advantages this new feature-rich platform brings to the table for merchant billers who need to find cost-effective and efficient alternatives to traditional means of distributing invoices and collecting payments.
With Singular BillPAY, merchants can send bills electronically via text, email or by postal service and easily collect electronic payments by phone using IVR, through their inbox from email notifications, or directly in the merchants' custom branded online BillPAY portal. The platform is fully HIPPA and PCI DSS compliant so checking and credit card information can be stored securely in a virtual wallet inside individual customer profiles for easy, quick payment of invoices. Merchants can also setup payment plans, schedule recurring payments and view bills online as well as generate and send invoices, payment alerts and notifications.
The Singular BillPAY platform can be customized to the branding specifications and functionality of each merchant biller and the entire invoicing and collections process can be managed right from inside the portal. Setting up a Singular BillPAY account is simple and importing bill data is easy. Hands-on support is provided throughout the implementation process to ensure a smooth transition. Learn more by watching a short overview video now and also request more information. Although the BillPAY platform officially launches to the public in January, merchants are encouraged to sign-up for a demo now so their custom platform is in place in time for the New Year. To help spread the word, Singular is offering a $10 Starbucks gift card for merchants who complete a demo of the BillPAY platform in December and January.
Singular BillPAY has been under construction and then in a beta testing phase with a large hospital system , large physician practice, a home/property owners association and a number of Business-to- Business (B2B) organizations over the past 18-months, with hundreds of thousands of invoices having been presented for payment and millions of dollars of card and ACH payments processed securely on the platform. "We are thrilled to have successfully completed a lengthy period of testing and development on our BillPAY and Revenue Cycle Management (RCM) tool after hearing from numerous healthcare clients for years about the challenges that small practices face relating to the invoicing and collections process, especially in a world today where the patient responsibility portion of treatment continues to rise. Customers in any bill pay vertical will benefit significantly when using this product, and we are excited to make it available to the market beginning in January," said Vaden Landers, Chairman and Managing Partner at Singular Payments, LLC.
About Singular Payments, LLC
Based in sunny Saint Augustine, FL Singular Payments, LLC is a sales and marketing company serving the payment processing industry with a revolutionary limitless flat rate billing model that simplifies accepting credit/debit cards for small to medium-size merchants nationwide. Call (877) 829-7256 for a free savings analysis or visit us online at http://www.singularpayments.com to learn more.
###