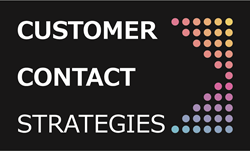 Dallas, TX (PRWEB) December 09, 2016
"The conference brings together thought leaders and subject matter experts on work at home for contact centers, and telecommuting programs for the enterprise side of the business. The best way to clearly understand what others are doing is to meet industry leaders sharing their case studies, followed by benchmarking within smaller group settings. "That's exactly what we do for two days," says Michele Rowan, President of Customer Contact Strategies.
Six case studies, seven breakout sessions, and a set of innovative technologies and services will be included in the conference, along with the 40-point 2017 Remote Working Benchmarking Survey results. Each attendee is furnished with the full survey results post conference.
Topics include Virtual Performance Management, Virtual Sourcing and Hiring, Virtual Training and Learning, Flexible Scheduling, Gamification, IT/Security/Equipment and Services Provisioning.
The 2017 Remote Working Summit is being held at the Dallas Park Central on March 8-9. Follow registration here. 2017 Remote Working Summit.