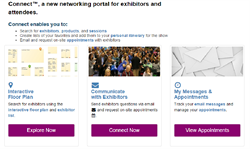 When attendees download the mobile app, they will see many features designed to help them be more productive and to make navigating the event easier.
Columbia, MD (PRWEB) December 08, 2016
a2z, Inc., the Maryland-based event management solution company, is pleased to announce that ISS Long Beach Trade Show and Convention is introducing the online networking tool, Connect™, and mobile app, ChirpE Meet, for its 2017 event to be held January 20-22, 2017 at the Long Beach Convention Center, in Long Beach, CA. Connect and ChirpE Meet Mobile App simplify pre-show and onsite networking between exhibitors and attendees to make for a more productive event for all involved.
With Connect, attendees can build a personalized show planner, consisting of their favorite exhibitors, exhibitor meetings and educational sessions. Connect also provides exhibitors the opportunity to create an online booth to showcase their latest products and services to attendees before they travel to the show. In addition, each exhibitor is matched with registered attendees who indicate interest in the product categories associated with its company profile. Exhibitors can connect with attendees via direct emails or by requesting in-booth appointments. This correspondence is all compiled in the online tool.
In addition, ISS Long Beach will be utilizing the new ChirpE Meet Mobile App solution to offer on the go access to the event information. When attendees download the mobile app, they will see many features designed to help them be more productive and to make navigating the event easier. All selections made online in Connect will be accessible from the mobile app. The ISS Long Beach ChirpE Meet Mobile App is available for iOS and Android devices, as well as all internet-enabled smartphones.
Exhibitors are also encouraged to add the ChirpE Booth Promotion Widget to their company websites so that they can promote their presence at ISS Long Beach 2017 to their customers. The Booth Promotion Widget provides exhibitors with a unique opportunity to engage with potential buyers before the expo starts. By utilizing the Booth Promotion Widget, exhibitors can increase their event ROI and collect valuable pre-show leads. Attendees can add exhibitors as a favorite to their show planner and register for the event with a single click via the plug-and-play widget.
About ISS Long Beach
ISS Long Beach trade show and convention brings together buyers, suppliers and manufacturers in screen printing, embroidery and graphic design. The largest of the five Imprinted Sportswear shows, the Long Beach convention hall is filled with over 350 exhibitors ranging from apparel screen printing equipment, multi-head embroidery machines, direct-to-garment printing options, heat-applied rhinestone designs, neon inks, performance stretch inks, sublimation equipment and much more. You'll see multi-head embroidery machines making twelve caps at a time. See the options of rhinestone application from heat-press application to robot-arm application from a computer design. See foil appliqué, laser applied lettering, screen printed team numbering systems as you walk around the immense show floor. All of the blank apparel vendors attend ISS Long Beach with the new collections for the year. You'll see the latest t-shirt colors, hoodie string and zipper colors, heather and marling sweatshirt designs, placket shirts, embroidery-ready corporate apparel, super-soft baby apparel, matching blankets, blank robes and slippers, backpacks, tote bags, aprons and every other apparel item that can be custom decorated.
About a2z
a2z provides powerful cloud-based event management and marketing tools that grow a company's brand by accelerating booth sales, helping boost revenue, and enhancing engagement and value for event participants. a2z's solutions are used by 1000+ leading trade shows and conferences across the globe every year. More than 45% of the TSE Gold 100 and TSNN Top 250 Events leverage a2z's innovative web and mobile solutions.