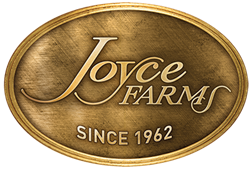 Winston-Salem, NC (PRWEB) December 08, 2016
For those who want to serve a truly traditional holiday meal this season, Joyce Farms offers a range of traditional holiday meats for purchase online. The company recently launched a new website, making it easier than ever for consumers to order for delivery nationwide. Featured heritage poultry and game products include Heritage Black Turkeys, Heritage Pintades (guinea fowl), Heritage White Pheasants, and Heritage Poulet Rouge Fermier™ Chickens, Capons, and Poussins (young chickens). Featured beef products include whole tenderloins, ribeyes, and strip loins of 100% grass-fed, USDA graded, Aberdeen Angus beef. New for this season, a limited time Holiday Sampler Pack is also available, offering valuable savings on three popular holiday products.
Ron Joyce, President and CEO of Joyce Farms stated, "Tradition is a hallmark of the holidays, and there's something very comforting about sitting down to a traditional meal that tastes the way it used to taste, before modern agricultural practices began diminishing the flavor and nutritional value of our food. When you serve these products, you serve a flavor that you can't get from modern breeds and methods, making that meal even more special. Plus, when the meat is already rich in natural flavor, it's much simpler to prepare. Ultimately, our goal is to make each meal a memorable, enjoyable eating experience."
Not only are these items traditionally served for the holidays, they're also produced with tradition in mind, using slow-growing heritage breeds and old-world raising and processing methods to achieve full, natural flavor. The animals are raised on small family farms and ranches with no antibiotics, no added hormones or growth stimulants, no animal by-products, and no artificial ingredients, ever. The heritage birds are also raised and processed according to standards from the French Label Rouge program.
About Joyce Farms: Established in 1962, Joyce Farms is a third-generation, family owned business providing poultry, game and beef of the highest quality and flavor to chefs, butchers and consumers nationwide. Joyce Farms is best known for introducing old-world heritage poultry breeds to the U.S. In addition to their renowned Poulet Rouge Fermier™ chicken (GAP Step 4), Joyce Farms offers grass-fed Aberdeen Angus beef (GAP Step 4) and a NAKED line of chicken, duck, and rabbit all produced without the use of hormones, antibiotics, or animal by-products. For more information, visit http://www.joyce-farms.com.